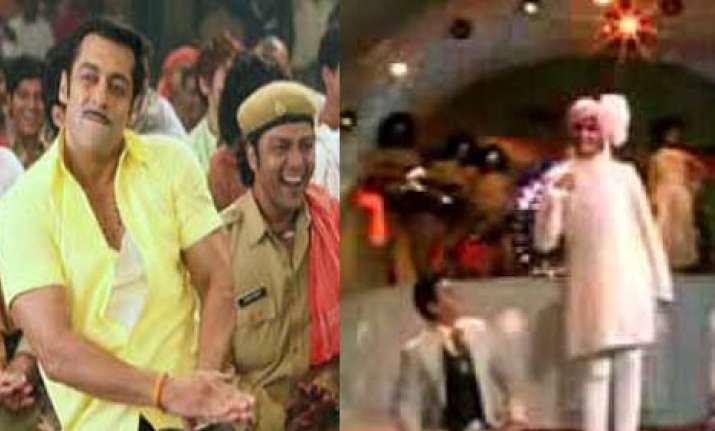 Bollywood star salman Khan is planning to do a Pag Ghunghroo number in the sequel to Dabangg, says a media report.Big B's iconic number from Namak Halaal may be 'Salmanized'  in Dabangg 2, says the report.
The report says, the idea of Chulbul Pandey taking on a room full of gorgeous socialites, in the company of his screen-wife Sonakshi Sinha, at a posh bash is being seriously worked out.Salman Khan has finally allotted bulk dates to Dabangg 2 from December 2011 onwards.  
Brother and producer Arbaaz Khan has made it clear that every member in the cast and crew is dispensable if they do not adjust to Salman's dates. Salman has allotted dates from the end of December 2011 for Dabangg 2. And that, to Arbaaz, is all that matters.
"The rest of the cast and crew will have to work their way around Salman's dates. I am very clear on that Dabangg 2 can be made without anybody but not without Salman. He IS Dabangg.  
"Getting his dates is not easy. I'm lucky he has given me bulk dates because he's my brother and because Dabangg is his franchise as much as mine. We're not budging from the core issue, namely Salman's dates. Other characters from Dabangg are welcome to stay or we'll replace them. If Salman can work out his dates a year in advance, so can they."
In Dabangg 2, the character of Chulbul Pandey will be seen arrogantly dealing with the elite in the city without caring a damn about what they think of his boorish rusticity. The reference-point is Peter Sellers in 'The Party'.The sequel will take Salman's Chulbul out of the small dusty crusty North Indian town straight into the metropolis.
What is left to be decided is whether the move into the city would culminate in Mumbai or another plusher unexplored city outside India.
Says Arbaaz, "I'm not revealing any details. If I divulge everything about Dabangg 2 now, why would anyone pay good money to watch it?  All I can tell you is that Salman now moves from a rustic setting to a city one. We'll now follow his adventures in the city.  Chulbul Pandey will remain exactly the same. How can he change? Only his milieu will change entirely," reveals Arbaaz.