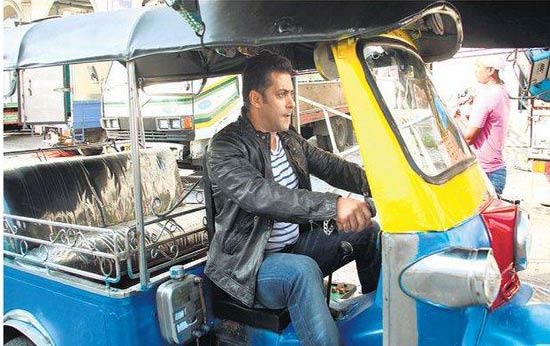 Bollywood actor Salman Khan recently shot some  action sequences while driving a tuk- tuk in the narrow streets of Pattaya, Thailand last week.
Inspired by Hollywood actor Pierce Brosnan's fast- paced ad in the Thai rickshaw, Khan suggested to the director Anees Bazmee that they shoot some action scenes in one, as it hasn't been done in a Hindi film as yet, says a media report.
Subsequently, an action scene was written and shot, showing two tuk- tuks blowing up and the actor jumping into another one and driving off.
Since no owner wanted to have his vehicle blown up, producer Bhushan Kumar had to buy three at a cost of approximately R 2 lakh each, for the shoot. Salman drove the tuk- tuk expertly, although it was his first time doing so.
Bhushan and co- producer Rajat Rawail want only the best for this R 57 crore extravaganza. No expenses are being spared.   
This is T- Series' most expensive film to date. The shoot in Bangkok and Pataya itself is costing Bhushan over R 11 crore at a cost of R 25 lakh per day.
Special Thai action fighters have been hired to shoot the action scenes in the tuk- tuks in Bangkok and in the entire film." Bhushan admits, " It was bhai's ( Salman) idea to shoot in a tuk tuk. Unlike the two and three- wheeler vehicles in India, the tuk tuks are very fast and powerful. Their drivers too are experts and can ride them as two- wheelers also. Bhai wanted to shoot an action sequence nobody has done before. People have shot romantic songs or scenes perhaps, but such a high- voltage action sequence will be seen for the first time in ready. People will enjoy this unique Thai action."
Tuk-tuks in Thailand are occasionally faster than taxis in heavy traffic as weaving in and out is easier, but generally are about the same or slower. As tuk- tuks are open- ended, they expose passengers to the high pollution levels in the middle of Bangkok's roads and offer almost no protection in case of an accident.