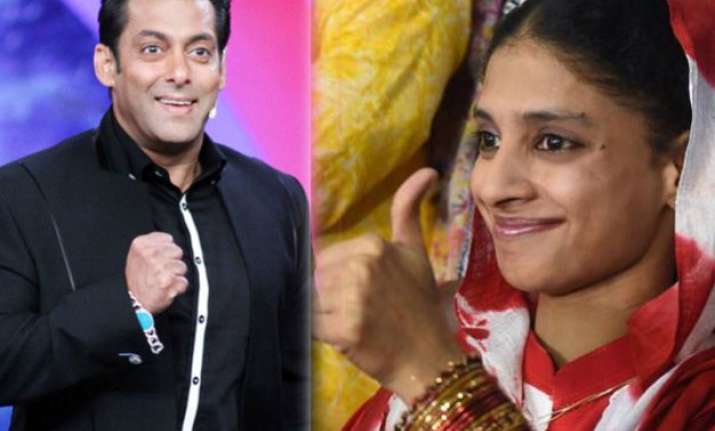 New Delhi: Superstar Salman Khan is delighted with the return of Indian girl Geeta, who was stranded in Pakistan from last 13 years.
The Bajrangi Bhaijan star took it to Twitter to share his happiness and posted an emotional tweet.
"Two countries have worked together to reunite a girl with her family . The power of love . Welcome home Geeta,"

Salman Khan shares an indirect but special connection with Geeta, the young speech and hearing impaired woman.
Actually, Geeta's story is very much similar to Salman Khan's Bajrangi Bhaijjan. The movie revolves around a speech impaired girl 'Munni' who got lost in India. Salman Khan, who played the role of Pawan Kumar Chaturvedi, reunited her with her family after facing many difficulties.
And it was after Bajrangi Bhaijaan's massive success that Geeta's story came into limelight. And after the coordinated efforts from both India & Pakistan, she is finally back to her native land.
Movie's Director Kabir Khan also expressed his content over Geeta's return as he said "Very happy that my movie Bajrangi Bhaijaan played a major role in the entire movement,".
Meanwhile, India has decided to send Karachi's runaway boy, Mohammad Ramzan, as a 'return gift' to Pakistan for returning Geeta.
Geeta, while in Pakistan, had expressed her wish to meet Salman Khan after her return to India. Now, when she is back Salman Khan has welcomed her well through the emotional tweet.
Let's see when the two meet up!