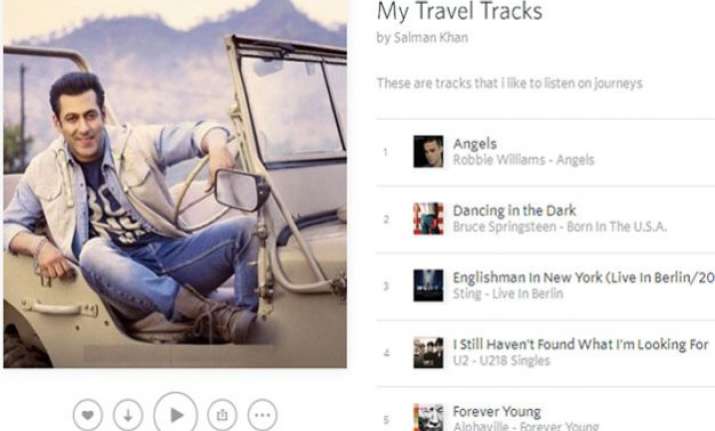 Salman Khan, undoubtedly, has an incredible fan following, thanks to his habit of regularly communicating with his admirers on the social media.
The actor, who is followed more for his attitude, dressing sense, style and personality, has now given one more reason to his fans to admire him i.e. 'song choice'
He today took it to Facebook to post a playlist of his favorite travel songs. And when someone like Salman Khan shares his personal playlist, it is bound to get attention of many.
In his earlier released playlist, there were no bollywood songs, but this time we find two desi songs from his own movies.
Well! Bhaijaan is fond of listening 'Kick's 'Tu Hi Tu' song composed by Himesh Reshammiya and 'Jaan-e-man's 'Sau dard' composed by Anu Malik.
Other songs in his playlist include evergreen numbers like 'Angels' by Robbie Williams and 'Dancing in the dark' by Bruce Springsteen. There is one more suiting his personality, i.e. 'Forever Young' by Alphaville.
This happy song sharing has come as sigh of relief amid the 'hit and run case' hearings faced by the actor, and made Sallu's fans more than cheerful.
So…Bhai ka playlist sunna toh banta hai boss!
Salman Khan's Playlist
1. Angels -Robbie Williams
2.  Dancing in the Dark - Bruce Springsteen
3. Englishmen in the New York- Sting
4. I still haven't found what I'm looking for
5. Forever Young- Alphaville
6.  Tu Hi Tu- Kick
7. Sau Dard- Jan-e-man
8. Hazard- Richard Marx
9.  The Best- Tina Turner
10. Could You Be loved