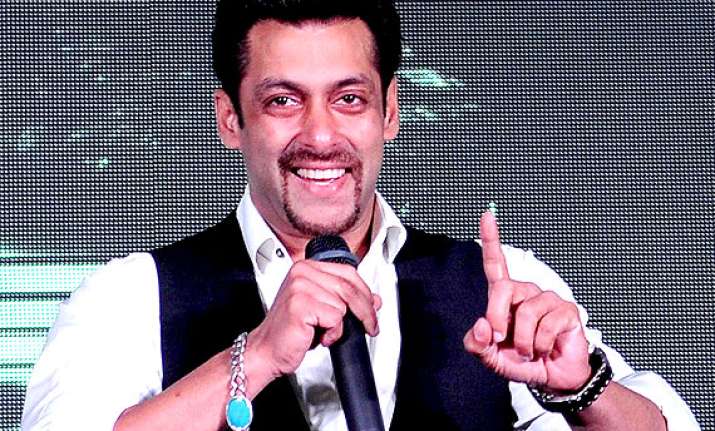 Mumbai: Superstar Salman Khan, who has sung the song "Hangover" for his film "Kick", says he is a bad singer but that doesn't stop him from singing.
"I sing badly but I can sing just about anytime. I don't care about how I sing... I sing, I don't care," the 47-year-old said here Sunday in an interview. 
"But to be suddenly put in a spot and being told to sing, then I get hesitant. If I am singing on my own then I am fine," he added. 
As much as he is enjoying the curiosity created by "Hangover", Salman is also quite surprised to see the hype around him singing a song for a film.Yes, Salman has turned singer for his upcoming film 'Kick' and with his 'Hangover', you will see bhai's romantic side.
In past, Salman has ruled millions of hearts with his breath-taking action and enchanting romance but this totally new side of Salman has stunned his fans. After singing a quite peppy 'chandi ki daal par sone ka mor,' Salman has come up with 'Hangover' and it is as wonderfully sung by him as mesmerizing the picturization is.
'Hangover' is the second song of the film that will was released after 'Jumme Ki Raat', which too is fast gaining popularity. The USP of the song is that our very own Salman has lent his voice for the song.
"I have sang before, in 'Hello Brother' and 'Wanted' also, the 'Most Wanted' title track was sung by me. I don't understand why is all this happening because I have sung earlier," Salman said. 
"So all this hype is making me feel like I am singing for the first time. I have just sung a bit better than those two times," he added. 
"Hangover" has been composed by Himesh Reshammiya.As soon as 'Hangover' was released it went viral.  
"Kick" also stars Jacqueline Fernandez and hits theatres July 25.