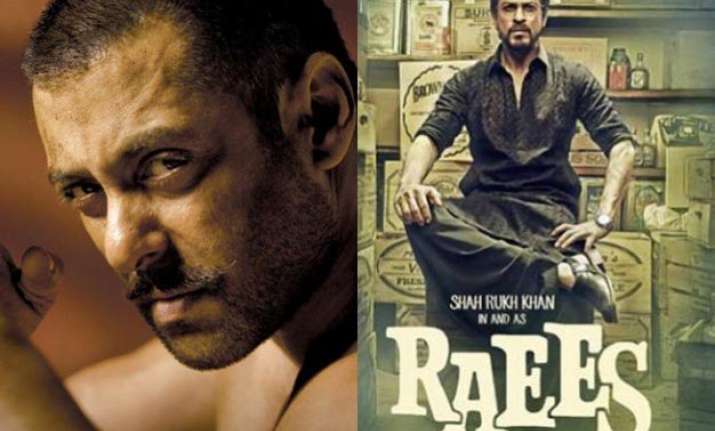 New Delhi: The year 2016 has set foot in our lives. With 52 Fridays ahead of us, Bollywood is leaving no stone unturned to entertain cine buffs.
There are a plethora of movies lined up, big stars who would prefer to win audiences' hearts and debutants who wish to make their importance felt.
Amidst, all the preparations for a stunning year at box office, the much hyped clash of superstars too happens this year. India's biggest superstars Shah Rukh Khan and Salman Khan will clash at the box office this Eid. SRK's Raees and Salman's Sultan, are till now bound to battle it out at the box office.
While, much has been written and speculated about this epic battle, we list you 10 reason why this is not such a good idea.
1. Budding friendship might go south:
Let's face it, at the end all actors want is to mint billions at the box office. To achieve this, they do not shy away from resorting to dirty methods. Whether it is acquiring theatres months before release, or getting into a war of words. Salman and SRK, buried their hatchet after years of enmity and this clash just might turn them against each other.
2. Forced choosing:
For years, the debate of who is superior between Salman and Shah Rukh has been making it to tea time discussions. Over the years cine buffs have realised that both of them are exclusive in their own way and some adore both of them equally. With this clash, it becomes obvious that fans will be forced to choose one and leave another, even when they don't want to.
3. Two superstars, one day:
It is obvious that given the star power that Salman and SRK enjoy, their movies will see bumper opening. Trade pundits predict that while their individual releases might rake Rs 100 crores in a week, these figures might drop exponentially with this battle.
4. Dirty war of words:
No, we are not implying that Shah Rukh or Salman would abuse or say ill about each other. But, we can't expect the same from their fans. With the loyalty which these two enjoy it shouldn't be surprising that their fans will abuse the other one on social media. Salman and SRK have clearly stated that they will block their fans if they disrespect other stars; but they should get ready for the same to happen before the clash.
5. Entire world vs India:
It is undeniable that SRK rules the box office outside India. He is the one who has broken many records, so undoubtedly Raees will perform well overseas. The same can be said about Salman Khan in India. Taking into account both the movies, one will eat the worldwide collection of other, which isn't good news for film industry, making trade suffer, eventually.
6. Unique concepts might die in number game:
Both the movies, Raees and Sultan, narrate different stories and the stars have stepped out of their comfort zone to gulp their characters. Their effort will maybe just go unnoticed amidst the clash, which is bound to steal the thunder. Coming out of theatres, all audiences will discuss is who was better and forget the drastic changes they went through to perfect the role.
7. Bad day for distributors:
The distributors of movies do their best to avoid a clash, especially one of this size. YRF and Red Chillies who are the distributors of Sultan and Raees respectively both will suffer immensely with this battle.
8. Gadar vs Lagaan again?
With Raees and Sultan battling out, one would be reminded of the 2001 clash between two super hit movies Lagaan and Gadar. While Aamir Khan, is a star today there was a time when Sunny Deol dented the collections of Lagaan immensely. Gada raked around Rs 70 crores while Lagaan did not come to even 50% of it. Lagaan, is the same Ashutosh Gowariker movie which was the third Indian film to be nominated for the Academy Award for Best Foreign Language Film. If Raees and Sultan face each other, history might be repeated.
9. It's Salman's Eid:
Salman Khan has been releasing his movies on Eid, since many years now. His last Eid release Bajrangi Bhaijaan broke many records at the box office. His ardent followers always wait for his movie weeks before Eid, which might affect Shah Rukh's release in million ways.
10. Uneven distribution of entertainment:
There is no escaping the fact that Salman and Shah Rukh are entertainers. There movies are so high on entertainment that fans are caught in its aura days after leaving the theatres. With both the movie releasing on the same day, fans will have to settle for short lived fun. They will be compelled to watch both of the movies, in a weekend and will not have anything to look forward for some weeks. Don't you think it is unfair for movie goers who wait months to see their favourite stars steal their hearts on the silver screens? Well, we do.