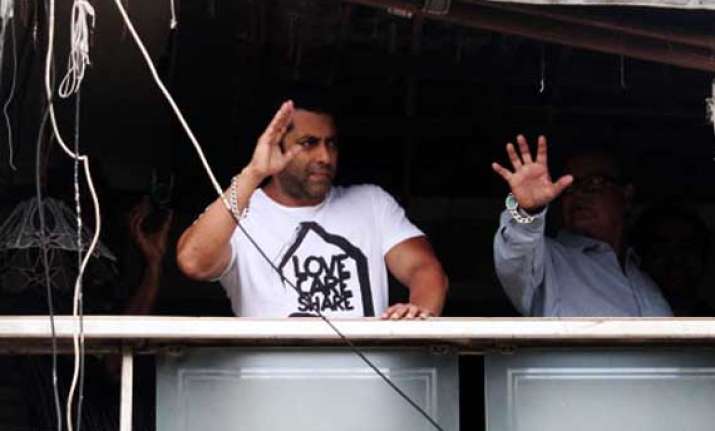 New Delhi: No matter what's court's judgment over Salman Khan in 2002 hit-and-run case, his ardent fans would never accept him as guilty.
Twelve years after the case comes haunting the Dabangg Khan, his fans are standing alongside him in full support.
Among them there is a particular section, which on a daily basis makes a visit outside his Bandra Apartment no matter what the conditions are.
Salman's Galaxy Apartments, which is around the corner from the bakery where Salman Khan lives in a flat below his parents, is located on a wide curve along a seafront street.
Every evening his loyal fans safely gather in large groups without fear of being run over, or being defeated by rain or scorching sun. There big prize is nothing but a small glimpse of their bhai who occasionally marks his presence in balcony and waves his hand towards them.
But these days it is said that he is in his Panvel farmhouse to avoid attention for the case.
"I have been here for two days," said Shahi Khan, 16, from Mumbai, in an interview to a leading daily. The boy bunked college to see the superstar. "People have been saying he won't come because he is in Panvel. But I have seen him once already a month-and-a-half ago. I hope I can see him again."
About the case he is confident that the actor is innocent. "It is a false case," he said. "He is the best of all the stars and he is the biggest social worker. It cannot be true."
Another fan of his says, "They are only putting a case against him because he is a star," chipped in Rahul Kumar, 21, also from Delhi. "Had people like us done something similar, they would not have made such a fuss about it."
Only Mohammed Kamran from "CG", Chhattisgarh, was willing to accept that if Khan was found guilty, he should have to serve his time. "I am a fan, so I will of course say that he is innocent," he said. "But if bhai has done it, then he must get justice."
What will be the outcome, it's hard to judge. May the justice prevail, is all we could say for now!