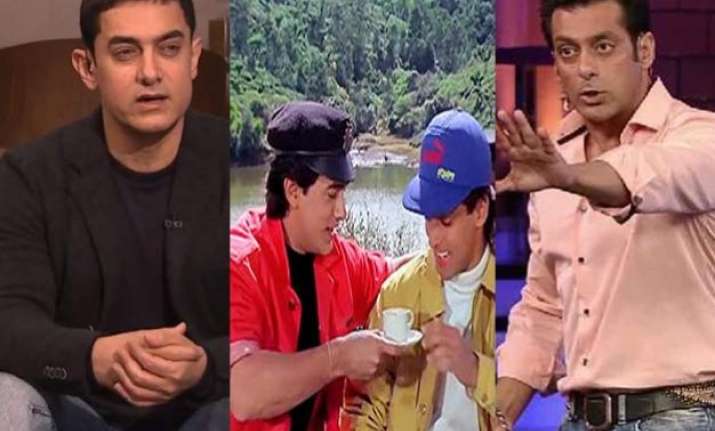 New Delhi: Superstars Salman Khan and Aamir Khan have been friends for many decades now. They have always expressed their love and affection towards each other. In fact, when Salman was in bad terms with actor Shah Rukh Khan, Aamir made it quite clear that he is never leaving Salman's side.
Unfortunately, for fans of both the stars the 'Amar Prem' friendship has gone sour. There were rumours floating around that Salman and Aamir fought at a recent party. Though, the Aamir's wife Kiran Rao had rubbished those reports, looks like they were not baseless at all.
A source revealed to a leading daily, "They were like Jai and Veeru from Sholay until Bajrangi Bhaijaan released and became a blockbuster. Aamir went public with the declaration that the film had been offered to him first and that he sent the producers of Bajrangi Bhaijaan to Salman since he couldn't do it."
This statement by Aamir pissed Salman Khan off. Salman did not like how Aamir took all the credit for his hard work.
A close friend of Salman revealed to an entertainment portal, "It is an unwritten rule among A-listers that they do not talk about roles they've rejected. Did Shah Rukh tell anyone that Munnabhai was first offered him? Did Abhishek Bachchan talk about rejecting Lagaan which Aamir eventually did? Salman felt it was rude on Aamir's part to try and take credit for Salman's Bajrangi success."
However, when Salman was asked if there was any truth behind Aamir's statement that he rejected the movie before him, he had said, "Yeah, I believe Aamir did  send the Bajrangi producers to me. I don't know whether to consider that gesture to be generous , or…."
It was also suggested that as a friendly gesture towards Aamir, Salman was ready to change filming locations of his movie 'Sultan'. Aamir's 'Dangal' and Salman's 'Sultan' are both based on the lives of wrestlers and the former was conscious that since latter's movie will release first, his movie would see lesser footfall at the theatres.
"Aamir requested Salman to make some changes including the location. But Salman insists he will do the film exactly the way it was written. And to hell with the competition," added Salman's friend.
The friend also pointed out that mutual friends of both feel Aamir is in the wrong. "Forget the Sultan versus Dangal angle. Salman is hurt by Aamir trying to take credit forBajrangi Bhaijaan. Salman doesn't forget or forgive easily"; he said.
We all know Salman Khan is the one who keeps up with his friendships and enmities with same passion. Is Aamir Khan inviting trouble for himself by getting into war with Salman? All we can do is hope that both of them bury the hatchet and go back to being friends.