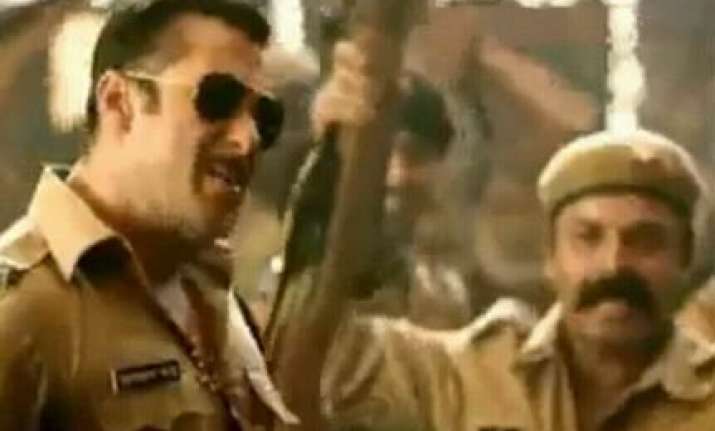 Bollywood star Salman Khan will be reprising his on-screen role of Chulbul Pandey (also known as Robin Hood Pandey in his upcoming flick Dabangg) in real life, by going on a 10-city tour and raising money for charity under his organisation, Being Human, says a media report.
Salman Khan kick-starts the countrywide initiative in Bangalore on Saturday,  and will travel to cities such as Delhi, Jaipur, Ahmedabad, Bhopal, Nagpur, Hyderabad, Dubai and later Kolkata or Lucknow.The actor is keen on raising as much money for charity as possible before the movie's release.
The film's entire cast, including Arbaaz, Sonakshi Sinha, Sonu Sood and other actors will also be travelling with him.
A source close to Salman reveals his plans, "He always keeps coming up with ideas for charitable initiatives. Since Dabangg is one of the most anticipated releases this year, he wanted to travel around the country and raise money.  
The idea is to collect money from various sponsors in each city and then donate it to the needy. There is a team of people involved from Being Human who are working out the logistics of making sure the money reaches those who need it."
The source adds, "Salman has a tremendous fan following in Dubai, and he plans to use the opportunity to raise money.  
He also plans to work out a system by which the money will reach the beneficiaries within a matter of hours. Every city will have a different initiative to raise money for charity." This is the biggest exercise he has undertaken to raise money.