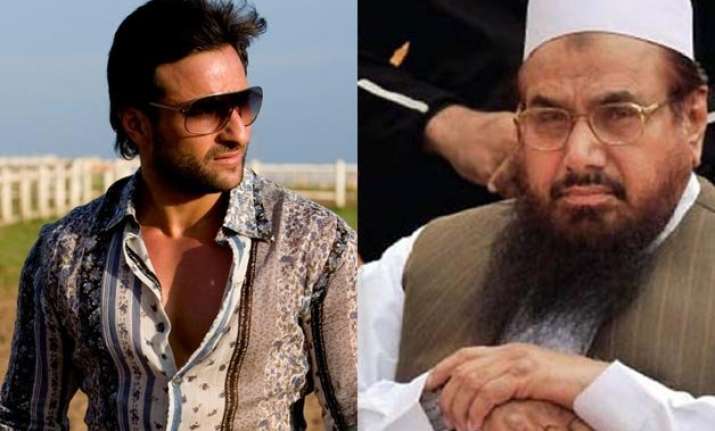 At a press conference this afternoon, the team of 'Phantom' including Saif Ali Khan, Kabir Khan, Sajid Nadiadwala and Husain Zaidi lashed out at Hafiz Saeed's petition to ban the film in Pakistan.
The team seemed to have a pretty clear notion about Hafiz's demand for the movie's ban. When asked about his opinion, Saif said, "It was expected. The movie has some scenes which had given me an idea about this ban. It was not surprising for me."
Adding director Kabir Khan said, "Whenever a movie is woven around some kind of political background, it makes way for controversies. But before such remarks they should watch the movie."
In unison with their thoughts, Saif and Kabir both said that it is shocking that a terrorist like Hafiz Saeed could file a petition in court given the fact that he himself is guilty in the eyes of law.
They said further, "Let us see what happens when the petition on the verdict is announced. However, we have not been given any formal notice."
Speaking about his association with the movie, Saif Ali Khan said, "The concept of the movie excited me. I had seen 26/11 attacks and I felt this movie is very important. All I want is that they see the movie before passing any judgement."
Sajid Nadiadwala and Kabir Khan said, "We have not made this movie to benefit from the Pakistani market. We do not wish to hurt the sentiments of anyone and neither does it matter to us what collections the Pakistani box office brings. It is an anti-terrorist movie and we want everyone to watch it."
Emphasising on Indo-Pak relations, Saif pointed out, "My family stays in Pakistan, the ones who chose to stay there after the partition. Does this mean I am working in a movie which is against them? There has to be some creativity in a movie."
When asked about the political effects 'Phantom' brings with it, Kabir Khan said diplomatically, "These petitions cannot happen without political support. Of course, there is someone behind it."
Husain Zaidi added that there are differences between the book and the movie. The book shows what could have been done after 26/11 in the form of a dream, whereas the movie is a blend of book and facts.
'Phantom' is set to release in India on August 28th.