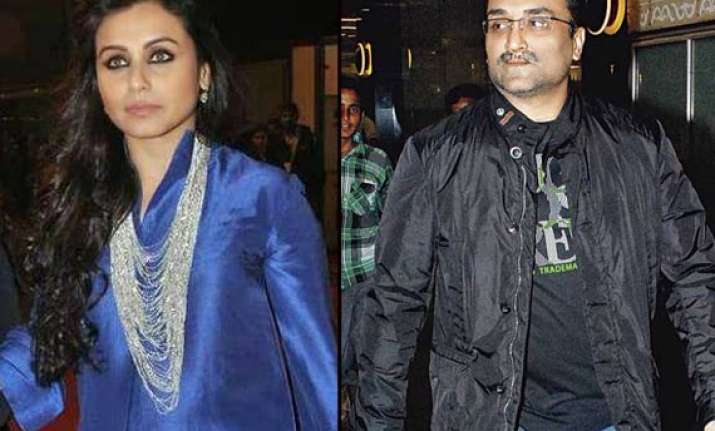 New Delhi: No wonder the silent wedding of Aditya Chopra and Rani Mukerji has surprised many, but what has astonished us more are the jokes over them, which suddenly have taken a toll in the social media world. Moreover, its Rani's brother-in-law Uday Chopra and late uncle Yash Chopra who are more trending on micro boggling website than her.
Here is a set of some of those jokes which we are sure will leave you in splits. Read the out.
Adi Chopra before marriage: DREAMUM Post marriage: WAKEUPPAM, CRITICAL CONDITIONUM #UdayChopra
Finally, Rani Mukerji married Aditya Chopra ..but there seems to be no Surya"üday for our #UdayChopra
Congratulations #UdayChopra ! Now you can get some acting lesson at home , from Bunty's Side-Kick to Babli's.
Rani Mukherji Marries Aditya Chopra. Now there are 2 Unemployed personalities Under 1 Roof #UdayChopra
Rani Mukerji got married with chopra guy. Uday Chopra:kya ye sach hai ? mujhe kaise pata nahi? Aditya Chopra: B/C ye meri baat kar rhe hain.
Rani: Now that we are married, we'll have to change some things in the house. Adi: Oh no, Uday jaisa bhi hai, aakhir bhai hai mera woh !
#AdityaChopra #yashuncle even Italy is trending on twitter but no Rani Mukherjee .. we seriously reqire women empowerment #italy
First time in history, #UdayChopra is trending without Dhoom! Thanks to #AdityaChopra #RaniMukherjee
Reaction on FB to news of #RaniMukerji- #AdityaChopra's marriage: "Married in Italy. Ofcourse #SoniaGandhi ki backing hai. Vote For #NaMo!"
We wonder if Aditya Chopra will make an appearance in his wedding photos.
Uday Chopra is trending.. coz Aditya chopra got married. Its like #Modi will be trending when #RaGa gets married...
this is height man #UdayChopra trending, ab toh kunal khemu, Tushar Kapoor ko bhi jhelna padega.
Now, Chopra household has both the ends of acting spectrum!! Must be a proud moment. :) #UdayChopra #RaniMukherji  
Aditya Chopra called a press conference and said 'Dil bole hadippa' #Rani  
Uday Chopra has finally arrived. He is trending on twitter. He is getting his acceptance speech ready.  
#UdayChopra needlessly trending as the best man in #AdityaChopra and #RaniMukerji wedding... #twitter never disappoints