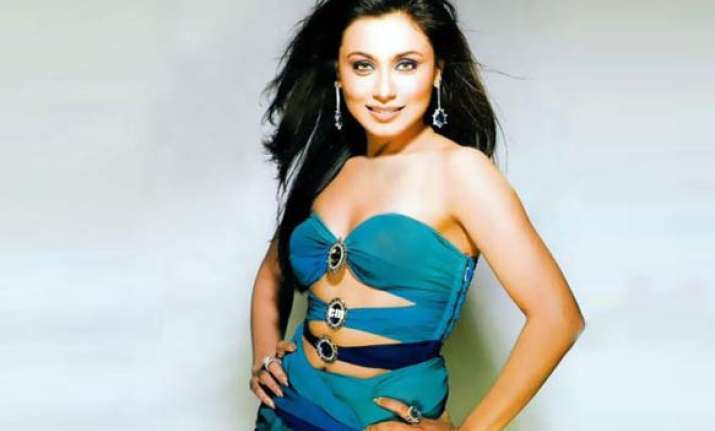 Mumbai, Feb 14: At an awards function recently, actor Rani Mukerji and Yash Chopra crossed paths at least thrice, but they did not exchange a single word, says a media report.
The incident on Saturday night sent shock waves in the film industry when at a film-television awards function Rani Mukerji and Yash Chopra completely ignored each other.
The function was organised at the Yash Raj Studios and Rani, who is currently dating the YRF scion Aditya Chopra did not even acknowledge Chopra's presence at the venue, let alone talk to him.
Rani's last release with Chopra was the Shahid Kapoor starrer Dil Bole Hadippa! in 2009.
The report quotes an eyewitness, "Everyone who walked past Yash Chopra spoke to him with utmost respect. Even those who saw him at a distance went up to him and greeted him.
"However, Rani did not make any such efforts. She arrived at the function a bit late but she passed by Chopra at least twice, without looking at him even once.
"Moreover, both Rani and Chopra were standing quite close to each other at the bar area, where they had a good chance to mingle but they didn't. While leaving, Rani kissed a few colleagues goodbye and left with a friend."
It can be argued that Chopra could also have started a conversation with Rani.
Adds the witness, "Yes, but Yashji is a senior man in the industry. Ideally, Rani should have taken the initiative. All said and done, everyone present at the function was quite shocked at her behaviour."
It maybe recalled that Rani was not spotted at Chopra's 40th wedding anniversary bash in August last year.
Reveals a source, "Rumour has it that Rani and Aditya will tie the knot this year."
Chopra and his wife Pamela had blessed Rani at an awards function in January last year. The source clarifies, "Yes, they did. They have nothing personal against Rani. But Yash and Pamela's hearts are still with Aditya's ex-wife Payal."