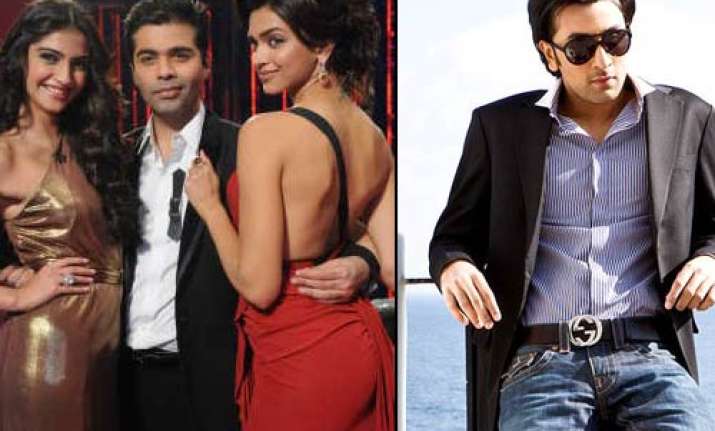 Bollywood heartthrob Ranbir Kapoor might be a ladies' man, but his ex-girlfriends, Deepika Padukone and Sonam Kapoor, have made some comments on KJo's Koffee With Karan which have not gone down very well with the Kapoor lad, says a media report.
The report quoting a source said, "The two girls who were said to be at loggerheads over Ranbir Kapoor till some time ago got along like a house on fire on Karan's show."Incidentally it seemed that both of them had an axe to grind against Ranbir Kapoor. Both the girls had one common talking point, which was Ranbir.  
"However, after watching the show, Ranbir is obviously not very happy and has been saying that both these girls nicked him on national television.
" Incidentally, Deepika said that she would gift him a pack of condoms while Sonam said that he needed a better stylist. Both the girls also rated him very low on sex appeal and constantly hinted about him being unfaithful in a relationship."Ranbir felt that the girls went overboard and they should not have spoken about him like that on a TV show."  
Ranbir has been linked to Sonam since Saawariya days; his relationship with Deepika ended on a less palatable note with her accusing him of infidelity.  
The source further said, "Ranbir is shooting for Imtiaz Ali's Rockstar in Delhi and his displeasure was very evident on the sets of the film. It did make for a fun watch, but it has definitely irked Ranbir."