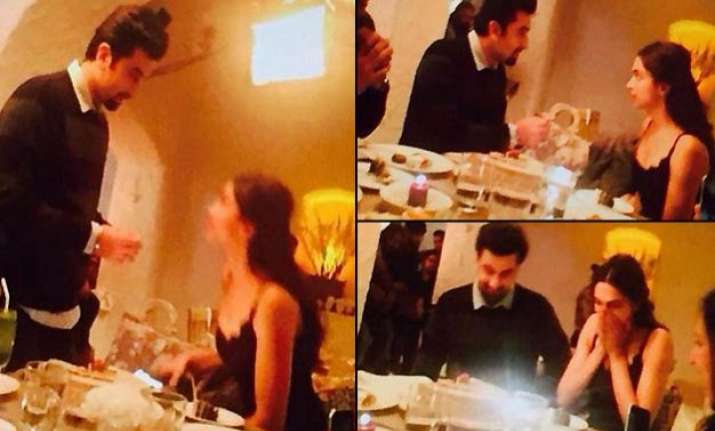 Ranbir Kapoor and Deepika Padukone's love saga was never a hidden thing from the world - nor was their break-up!
So whenever the duo decides to share the screen space, reports about them are surely bound to book every nook and corner of the gossip columns.
They may have parted ways in real-life, but have strong and mature professional relation because of which they are time and again seen together on-screen.
Their latest project together 'Tamasha' has already been in news because of their sizzling on-screen chemistry and this one incident would surely make all their fans sit up and eagerly await movie's release.
Because Ranbir Kapoor has gone up to propose Deepika!
Yes... the man went down on his knees to propose Deepika Padukone with a ring; and before you let your mind horse's race - allow us to tell you that it was all just for a movie scene!
See pics here: OMG...Ranbir Kapoor proposed Deepika Padukone
In a romantic sequence, the couple was spotted dining in an exquisite ambience, when all of a sudden Ranbir surprises Deepika with a ring and popped the question.
Visibly surprised Deepika reacted with shocking expression as she put her hands on her face, and we might just have to wait for the movie to be released to see how she responded.
A visitor on the sets caught the moment in his cam and shared the pics online.
'Tamasha' will be Imtiaz Ali's second with Deepika (after Love Aaj Kal) and first one with Ranbir Kapoor.