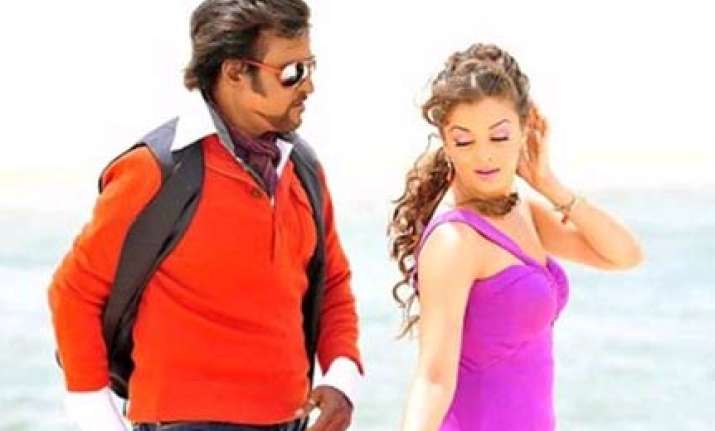 The Robot, a mega-budget film starring Aishwarya Rai and Rajnikanth had its music release function held in Mumbai recently and was praised by southern star to be the 'Sholay' of this century due to, what he says,  its excellent storyline and character sketches by ace director Shankar.  
Rajnikanth, who plays the main lead of 'Robot' in the film, said that around Rs 160 crores had been spent to give the technical finesse and other excellent touches to the film.
Amitabh Bachchan, who was also present on the occasion to release the music of the Hindi version of the film, termed Rajnikanth to be truly 'son of the soil.'  And the one who was loved by every Indian. Rajnikanth returned the compliment by anointing Amitabh Bachchan with the title of being his 'guru' and 'inspiration' for years in his acting career.
Amitabh Bachchan and Rajnikanth have remained friend from the days of 'Andha Kanoon', 'Giraftar' and 'Hum' and admire each other's iconic status in their respective territories of Bollywood and Chennai film industry.
'Robot' has the musical scores from renowned music director A R Rahman and is expected to raise the temperature of music market after its release.Rajnikanth is very enthusiastic about the upcoming 'Robot', which is being made in three languages of Tamil, Telugu and Hindi.  
The Tamil version of the music was released in the Malaysian capital of Kuala Lumpur earlier this month.  Rajnikanth has innumerable fans in the countries of South East Asia and they throng to theatres to watch a Rajni starrer film.
'Rabot' is also very important movie for Aishwarya Rai's stature in Bollywood, especially so as her last film 'Raavan,' opposite
Abhishek Bachchan
, bombed at the box office.