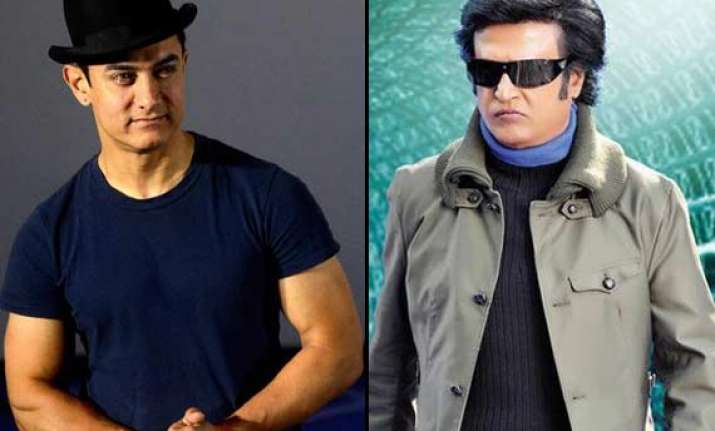 New Delhi: There are few once in a lifetime opportunities you can't miss and watching Rajnikanth & Aamir Khan together in one frame is surely one of the rarest thing you come across.
Thalaivar and Mr Perfectionist are set to give their fans a heart-beat missing moment. Yes, the South Superstar Rajinikanth and Bollywood's very own Aamir Khan going to face-off each other in former's Robot sequel.
Face-off, yes it will be indeed, since the Dhoom 3 actor is going to be an antagonist in sequel of Robot which had earlier Rajinikanth playing both a villain and a hero.
But it's not going to be a cakewalk for its makers since initially it has been denied by Aamir Khan but this is a half story surfaced. According to a leading daily, it's said that the very gentle and humble Rajinikanth is going to approach Aamir personally to convince him for the role.
So, all the 'Aamir' and 'Rajini' fans out there, there is still a hope alive to witness the two biggies of the industries together. But wait we still have a big reason to why Aamir would once again deny Rajini's offer.
Since, it is a known fact that the superstar's flicks always project him in a huge image and provides a massive aura that minimizes the importance of any other big actor associated with the flick.
Deepika Padukone who last year gave four superhits to Bollywood was completely sidelined in 'Kochadaiyaan' during promotions and even her performance went unnoticed. However, much of the blame went to the special effects which couldn't justify the acts of all in the flick.
Here, it would be interesting to witness Aamir Khan playing a full fledged negative role in the flick. But how meaty his role would be and will that fetch and satisfy his Bollywood fans all over are among few questions that Aamir will keep in mind while saying 'yes' or 'no' to the South superstar who is currently working in KS Ravikumar's 'Lingaa' also starring Sonakshi Sinha.
It is well-versed that both Aamir and Rajinikanth have a monstrous fan following and this could make Robot 2 renowned not only in regional but all over. Aamir Khan's Dhoom 3's humongous stint at box office (above Rs 280 cr collection) would be one key factor Rajinikanth would like to capitalize on but it's important for the former to know what he'll get from the project which solely targets 'Thalaivar' fans.