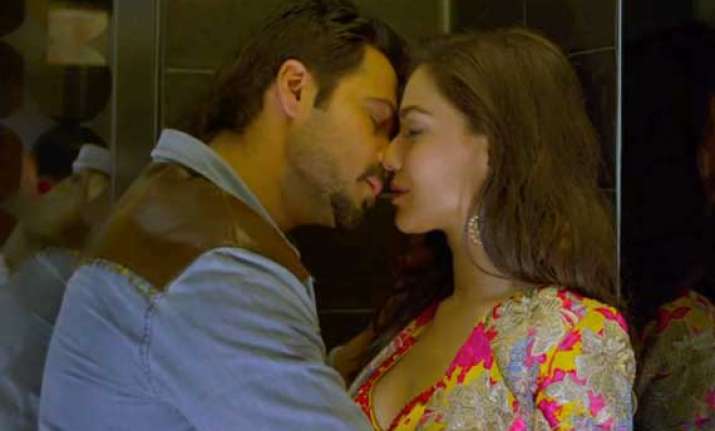 New Delhi: Emraan Hashmi is up with 'Raja Natwarlal', his solo release of the year and the trailer out doesn't really crown him as the king. Looks like heavily inspired by the 'Jannat' series, 'Raja Natwarlal' once again showcases Emraan as a mastermind who could con anyone.

Stars- Emraan Hashmi, Humaima Malick, Paresh Rawal, Kay Kay Menon
Director- Kunal Deshmukh
Music Director- Yuvan Shankar Raja
Well, is it really so? Let us find it out. The trailer begins with voiceover of Paresh Rawal (playing Gulati), who was last seen in Table no. 21, giving an idea about Raha Kumar aka Natwarlal played by Emraan. Yes, Paresh Rawal and Emraan Hashmi together is the factor we could look forward to.
Meanwhile, coming back to the debate, from a con to his sweet affair with the newbie Humaima Malick (playing Jeena), who plays a bar dancer in the flick, 'Raja Natwarlal' has all the more similar plot like Jannat. And why not since it's the 'Jannat' series' makers bringing Raja Natwarlal to you.
The trailer moves forward and Paresh together with Emraan plans big to con a business tycoon Vardhan (Kay Kay Menon) who has only one interest and that's cricket. Now do we need to justify why we are pondering over the 'Jannat' effect.
The flick further deals over the plotting and planning by Paresh and Emraan who are hungry for the big fish and it becomes all the more predictable later on.
However, it's the presence of Paresh Rawal and Kay Kay Menon who may turn things in favour of the flick while Humaima Malick, o yes, the Pakistani actress will also be the one to be looked forward.
Debutant director Kunal Deshmukh has assisted Mohit Suri in Zeher, Kalyug, Woh Lamhe under Vishesh Bhatt camp so getting inspired by one of those flicks isn't unwise. We wish he could have come up with better idea. Nevertheless, will 'Raja Natwarlal' be able to con its viewers; we'll have to wait for August 29th to find it out. For now watch the trailer here.