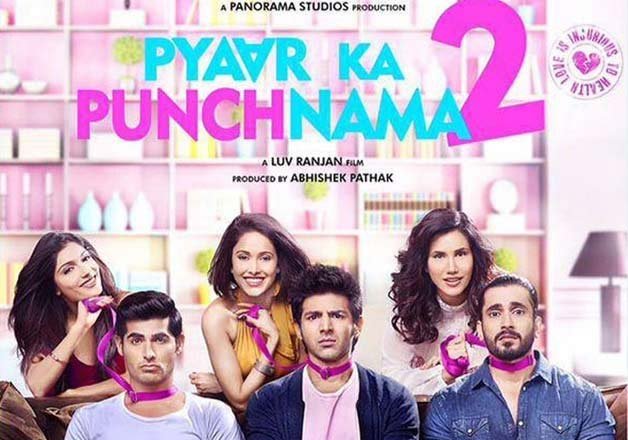 Cast: Kartik Aaryan, Nushrat Bharucha, Sunny Singh,Sonalli Sehgall,Ishita Raj,Omkar Kapoor
Director: Luv Ranjan
Rating: 2.5/5
Luv Ranjan's directorial debut--Pyar Ka Punchnama was a surprise hit of 2011, the film went on to develop a cult following especially among its male fans who loved the movie for depicting man as sufferers in a relationship.
The sequel to PKP is based on similar premise with slightly different treatment with the story, the film once again highlights the plight of a man in a world where only women are claimed to be victims in gender inequality war.
The film traces the life of three friends – Gogo (Karthik Aryan), Siddharth (Sunny Singh) and Thakur (Omkar Kapoor), who get into a relationship as soon as they meet their girls. After their initial fling, the trio is seen getting deep into a mess rather than a relationship. Gogo's love interest Chiku (Nusrat Bharucha) never fails to dig about his boyfriend's past but finds it okay to share bed with her male best friend, (understandably an extension of 'Hum Tumhare Hai Sanam' where Shah Rukh dislikes his wife  Madhuri's overcoziness with her best pal Salman). While Siddharth gets fed up of performing household chores of his girlfriend to impress her parents, Thakur struggles with an utterly overbearing and pretentious girlfriend Kusum (Ishita Sharma) who has her eyes set on his bank accounts.
The film tears into the conventional notion of happy couples, who lived happily ever after.
Notably, PKP-2 has some genuine rib-tickling moments with a blend of dark humour and a balanced performance from most of the cast.
On the flip side, PKP-2 often oscillates from its comedic bit and becomes a running commentary on relationships exploring how demonically women control men against their will. Moreover, enforced anecdotes and punches often work against the story. The background score of Sharib-Toshi, Hitesh Sonik and Luv Ranjan is another letdown in the film..
The disappointment among the couples grows in equal measure making the film boring in parts.
The dialogues by Rahul Mody, Tarun Jain and Luv Ranjan takes a swipe at the conventional notion of love and commitment in a fast changing world where love has become a self interest in disguise.
PKP-2 is basically an anti-love film that only explores fallout of a relationship.
Like its prequel, PKP-2 once again offers a bursting soliloquy by a brilliant Karthik Aryan on impossibility of understanding a woman. Only this time Karthik Aryan has replaced Kartikeya Tiwari.  
PKP-2 could be an eyesore for the feminist brigade as the film has unabashedly taken side and is totally unapologetic about its misogynistic tone.
One still from the film where Gogo dances with his deceiving girlfriend and her two sahelis saying I Love You, to each other, is heart breaking, it  shows how hollow the word' love' has become in the modern set up.
Here is the trailer of the film