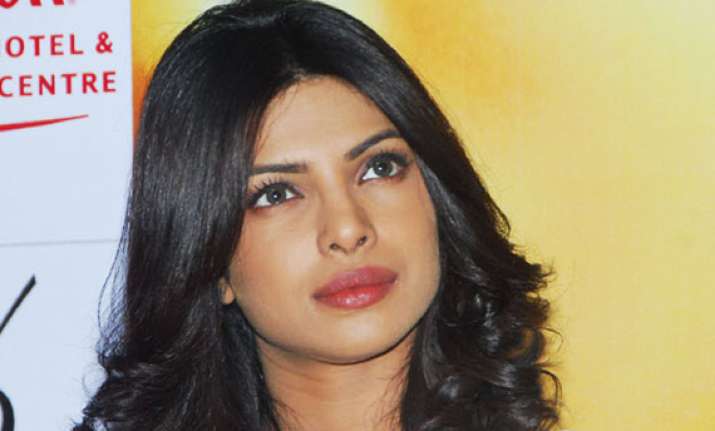 Mumbai, Oct 31: Bollywood star Priyanka Chopra has cancelled her dates for Anurag Basu's film as she is yet to return to India to shoot for the film, says a Mumbai Mirror report.

Priyanka is currently busy recording and organising the release of her debut music album in North America. Basu's repeated efforts to convince the actress to return and complete the schedule have fallen on deaf ears, says the report.

Priyanka has informed the Barfee makers that she would only be able to allot dates for the schedule in January next year.

Priyanka's sudden passion for music seems to have left co-actors Ileana D'Cruz and Ranbir Kapoor with very little to do.

The report quotes a source: "Ileana has gone back to her parents' place to spend some quality time with them. Still, Priyanka's cancellation of dates has inconvenienced Ileana quite a bit."

"Ranbir too was supposed to shoot scenes with Priyanka in the next couple of days. However, since she isn't coming back to the sets of Barfee for the time being, Ranbir has decided to spend all that time promoting his next film Rockstar," added the source.

"How much can Anurag tell her? Beyond a point, he too had to stop asking her," informed the source and added, "Priyanka was supposed to return last weekend. The shoot was supposed to start by the end of this month as planned."

However, things cannot go as planned anymore.

"Priyanka will not shoot for Barfee before January 2012. She has allotted fresh dates for the film. Let's hope that she sticks to her word this time. This is not the first time Priyanka has been difficult with her dates for the film," said another source.

Earlier, the film had a delayed start due to Priyanka's date issues.

The actress, who had chosen to shoot three films simultaneously, was busy dividing her time between Karan Johar's Agneepath, Kunal Kohli's film with Shahid Kapoor and Barfee.

In July 2011, Basu was even heard telling a section of the media, "Priyanka has been really busy, but these things happen. Schedules clash. We just shot one schedule in Mumbai without her."

Priyanka's spokesperson claimed, "Not true. PC's schedule remains the same. There is no change and no extension".