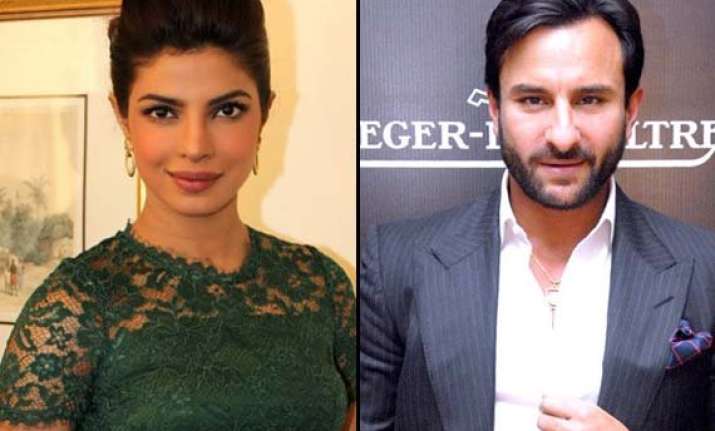 New Delhi: For the first time ever the two stars Priyanka Chopra and Saif Ali Khan will be together in a film whose megaphone will be in the hands of choreographer-turned-action director Prabhu Deva.
The two have been approached by two power houses of Bollywood both of which have different genres. According to a leading daily, while one is an intense romantic drama, the other production house is in the mood of making a rom-com with the duo.
Who will succeed in convincing the two, will be known sooner but the way it looks on papers, it wouldn't be that easy for any one of them to bring the two together. And that could be adjudged from Priyanka Chopra and Saif's begum Kareena Kapoor Khan's past rivalry.
Their cat-fights have been very much in display in the past years ever since they worked together in Akshay Kumar starrer 'Aitraaz', however, during that period they both praised each other with sugar coated statements. But its no hidden fact that Priyanka Chopra won more applauds for her negative character in the film.
The distance grew and they both never associated each other in events but continued taking digs thereafter. In fact, offers came in her way to star opposite Saif Ali Khan but knowing his proximity with Bebo she avoided rather cleverly citing reasons like dates issues.
Saif Ali Khan next romantic comedy 'Happy Ending' initially was to feature Pee Cee but we can understand what must have led her to say 'NO' to that offer too.
As of now, seems things are more refined and the bitterness seems to be replaced with sweetness. However, Saif indicated to a leading daily that he isn't approached for the movie yet but this may have come out under the influence of the production house that wouldn't want any information to be leaked.
Well, whatever it may be, we wish them to come together at last!