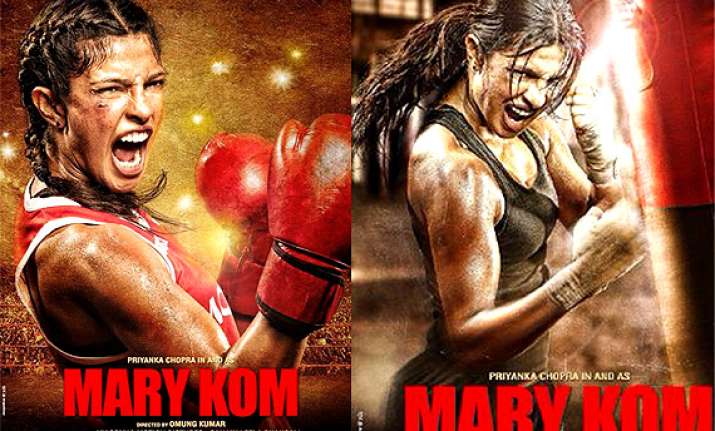 New Delhi: After much wait first look of the Priyanka Chopra starrer 'Mary Kom' was revealed by the actress herself.
Priyanka tweeted it saying, "Heart. Blood. Sweat. Soul. I've given it my all. Over to you guys now! #MaryKomFirstLook #FightLikeAGirl ..here goes ".
 With well-built muscles and a completely toned body, Priyanka looks fierce in the poster where she is posing with a punch. The muscles, expression and attitude clearly reflect how dedicatedly Priyanka has worked for this movie.
The film is based on the life of Olympic medalist Mary Kom. It will be another addition to the list of Indian biographical sports drama films.
If we recall last year Farhan Akhtar's 'Bhaag Milkha Bhaag' did exceedingly well at not just the box office but also with the critics.
The National Award winning actress, known for portraying every character with poise and perfection, has indeed trained super hard for her role as MC Mary Kom, the boxing champ.
 The movie stresses the challenges faced by Mary and her triumph against all odds.
Touched by the tremendous response to the poster, Priyanka tweeted, "I'm so overwhelmed by your reactions. Thank u all so much. This one is for all those who wanted to be bigger than they were told they could be."
This sports biographical drama film has been directed by Omung Kumar and is being made on the real life of one of the best Indian female boxer ever.
 'Mary Kom' is produced by Sanjay Leela Bhansali and screenplay written by Saiwyn Quadras.
It is slated to hit the theatres on September 5 this year. There is one interesting fact about this film that it is going to release on the same day when Priyanka cousin sister forthcoming movie 'Daawat-e-Ishq' is releasing.