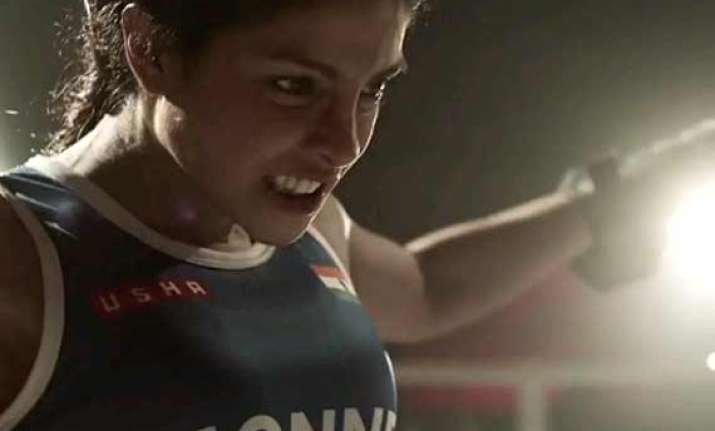 New Delhi: All the excitement and curiosity aroused through the posters and teaser of much-anticipated 'Mary Kom' starring though, very promising Priyanka Chopra was laid to rest after witnessing its 2 minutes 40 second trailer.
Yes, it's the biopic over our very own female boxer MC Mary Kom but judging by the trailer we want to ask the director Omung Kumar, is this the kind of ode one expected to give to India's Olympic medalist?
Yes, the athlete would be feeling honoured but we as curious spectator are more or less disappointed. More of stereotype, more of melodrama, Mary Kom trailer looks more commercialized than narrating a true story with authenticity.
Here are the reasons why we feel so:
As promised in the poster and teaser, Priyanka doesn't appear brawny and gruesome. Moreover, her Manipuri dialect which she struggles to maintain till the mid, finally vanishes as the trailer departs with her punch line- 'kisiko itna bhi na darao ki dar hi khatm jae' (don't scare someone so much that it ends hisher fear)... Shall we applause that?
The trailer narrates Kom's journey from her struggle with her family who shuns her wish to be a boxer, her training by her coach, locking horns in the ring to finally being hailed as a champion.
Among everything, the knee-wrenching training session looks impressive but again here nothing adds up to Chopra's physic that should have been visible.
Pee Cee packs some good dialogues but more disappointing is lack of realism. The actress looks non-regional and in fact Kom's family including her husband's looks is given more attention who possesses slant eyes and flat nose.
A little bit of filmy line, cute romance between Priyanka and her soon-to-be husband in the flick, a hair rising session with the sports ministry and the flick becomes more appropriate for the masses.
Watch the trailer of 'Mary Kom' which is set to release on September 5th this year.