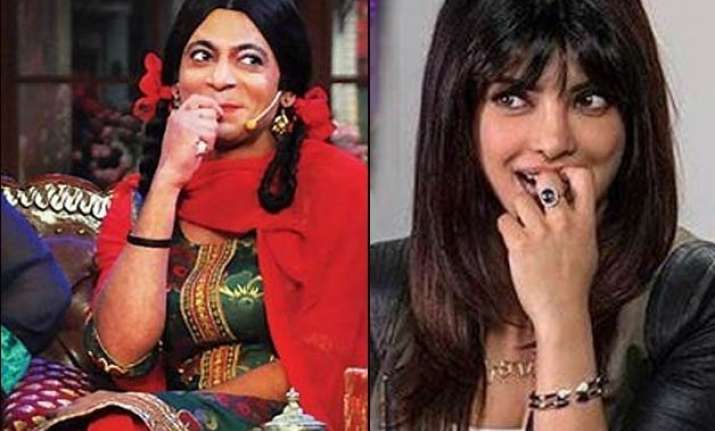 Mumbai: Priyanka Chopra while tweeting seriously about her decision of doing the film 'Fashion' would have never thought that she will get a funny reply on it!
Yes! The 'Exotic' girl has got the most funny reply by comedian - Sunil Grover aka Gutthi on Twitter.
With the success of content-driven films led by women like Anushka Sharma and Kangana Ranaut, one lady who is sitting back and smiling is Priyanka Chopra, who recalled how she was called 'silly' for choosing to do a movie like 'Fashion' back in 2008.
"Der aaye durust aaye. Just saw NH10 @AnushkaSharma! So proud of you... As a woman, an actor and a producer. Keep the flag flying high babe #GirlPower," the National Award winning actress posted on Twitter on Friday.
She added: "So good to see such amazing content driven films led by girls!it was so hard to get people 2 believe in us when I started. We were always 2nd.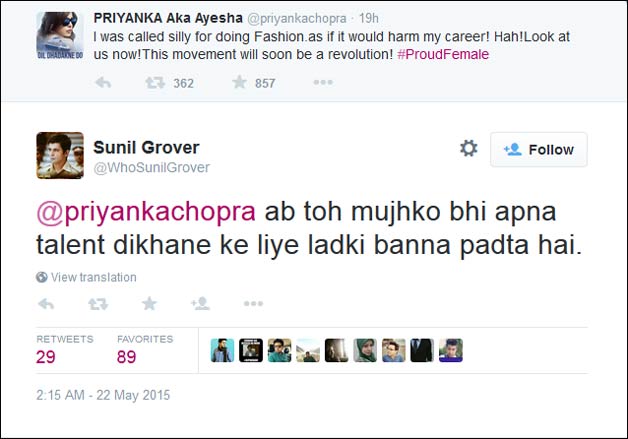 While tweeting about her decision of working in the National Award winning film 'Fashion', Priyanka tweeted, "I was called silly for doing Fashion. As if it would harm my career! Hah! Look at us now! This movement will soon be a revolution! #ProudFemale."
But Gutthi the most loved funny character on Indian Television couldn't resist and funnily tweeted, "@priyankachopra ab toh mujhko bhi apna talent dikhane ke liye ladki banna padta hai."
After this reply, Priyanka would think twice before tweeting serious stuff on Twitter, as you never know, when Gutthi will share her pearls of wisdom!
Priyanka Chopra, Ranveer Singh and Anushka Sharma will soon be seen promoting their latest film Dil Dhadakne Do on Kapil Sharma's 'Comedy Nights With Kapil'.
We wish you best of luck Gutthi!