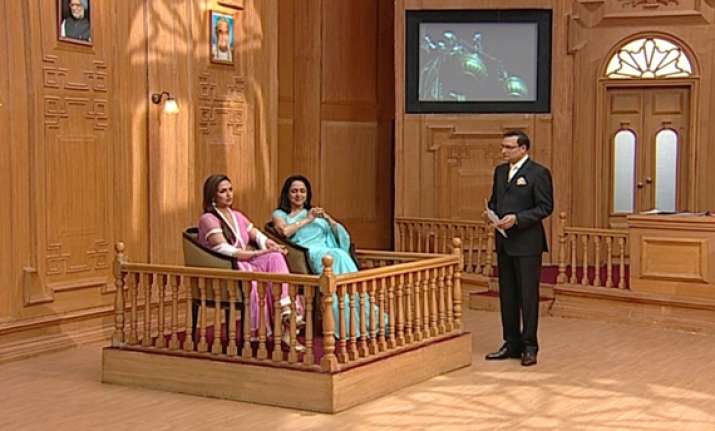 New Delhi, Oct 22: Bollywood star Hema Malini, who has made her debut as a director in the film 'Tell Me O Khuda', has said people will today laugh if she ever says that she is a Dream Girl.
 
Replying to questions in Rajat Sharma's Aap Ki Adalat alongwith her daughter Esha Deol,  Hema Malini said, "I never took the tag Dream Girl for myself. I was given this tag when people introduced me to the film industry.  People will laugh if I say I am a Dream Girl today. Even so, if anybody says I am a Dream Girl, I love to hear it."
 
Asked about the secret of her beauty, Hema Malini said: "Keep on working. Never stop. I work whether in films, or dance or politics. I always keep myself busy. It is a continuous work."
 
Esha Deol revealed: "My mom is beautiful because she is beautiful in mind which reflects on her face. She does yoga  every morning. She takes care of her diet. She dances once or twice a week. She is very young at heart, I'd say."
 
Asked by Rajat Sharma when she would pair with Dharmendra again on celluloid, Hema Malini said: "I am waiting for a good script.  Right now, I am not 'gaayab' (missing from films). I have only taken a small break. If I get a good script, I shall definitely work with Dharmendraji in our home production."
 
"But, mind you, it is difficult  to recreate the love  pair of yesteryears (with Dharmendra). People may not like. There has to be a good script", said Hema.
 
About her film 'Tell Me O Khuda', Esha Deol  revealed how her mother made her ride camels for ten days at a stretch.
 
"She told me to run and jump on a camel. Initially I was bit afraid, but  when I saw the shot later, I was very happy she made me do this", said Esha.
 
In the film, Esha was  hung upside down from a building by the villain. "My papa was worried when he saw this. He rushed to the fight master asking him to finish the shot early as I had been hung upside down".
 
'Esha is the perfect combination of both our talents (me and Dharmendra). She can do very good fighting sequences and can also do soft dancing', said a proud Hema.

On marriage, Esha said, she would do it at the right time.  "I have completed ten years in the industry. Whenever I feel it is the right time, I will happily get married. I want my husband to be as handsome, if not more, than my father."
 
On Salman taking part in an item number in the film, Esha explained, how they worked in No Entry and later took part in a tour in the US. "We struck a good friendship and he had promised me to work in my film.  What better than to appear in an item song".
 
On her short temper, Esha was asked by Rajat Sharma whether she had ever slapped her co-star Amrita Rao.
 
Esha paused and then replied: "Was it so? I don't remember."
 
To this, Hema Malini added: Whenever she (Esha) is with me, I don't need bouncers. She will just give (the shove) if anybody comes closer to me."
 
Asked about an incident where Esha beat up a journalist, she replied: "If somebody writes some wrong things, and even after explaining to the person, if he doesn't change, then you have to deal with such persons differently. What are these hands for?"
 
Do not miss the exciting mother-daughter duo in Rajat Sharma's Aap Ki Adalat to be telecast on Saturday  (October 22) at 10 pm and on Sunday (Oct 23) at 10 am and 10 pm.