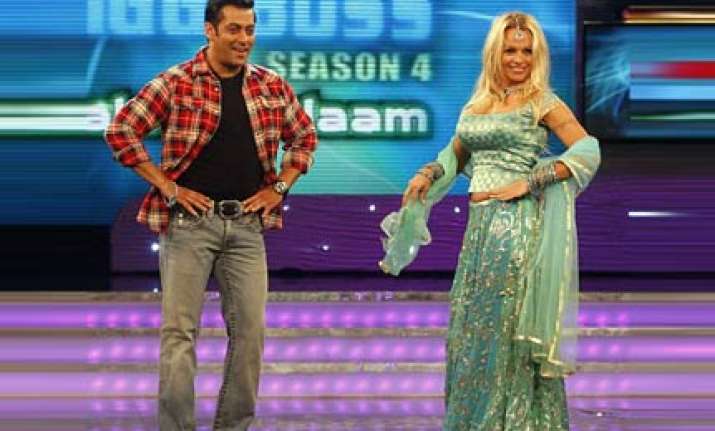 Dressed in a very turquoise lehenga choli,  Baywatch babe Pamela Anderson  greeted Bigg Boss Salman Khan on stage, and then switched to a pink top and red skirt as she and Salman showed off their moves from Munni Badnaam Hui, the runaway hit Dabangg song, reports Daily Mail, London.
 
As Pamela's three day stay in Bigg Boss house came to an end, the Baywatch star wiggled her hips in front of Salman to do the Munni routine.





 
Salman, too, was not far behind. The Bigg Boss dittoed his on-screen Chulbul Pandey dance in the Munni number to loud claps from the participants inside the house.
 
Pamela sang in halting Hindi  "Munni badnaam hui" as she danced to the number.





 
Pamela left the Bigg Boss house Friday night after her three day-stint on the reality show.
As the only Westerner, Pamela did her best to fit in on Indian version of Big Brother.
Earlier, dressed in a green sarong wrap dress, Pamela showed off her best Bollywood dance movesto the tune of Dhak Dhak Karne Laga, the Madhuri Dikshit number.



With the male contestants cheering her on from the sofa, Pamela and the other female contestants performed a choreographed routine.
Appearing for her second day on the show, Pamela tried to keep herself busy.
After enjoying parathas for breakfast, she started cleaning the utensils and later swept the floors with a broom.
She also practised her Hindi, asking 'Aap Kaise hain? (How are you?)'. Pamela was seen being tutored in Hindi by Bhojpuri singer Manoj Tiwari.



In the afternoon contestants Dolly Bindra and Sameer Soni were evicted from the house.
As they left Pamela bid them farewell by saying 'Alvida', an Urdu word for 'bye'.
The housemates are all stars in India - actors Ashmit Patel and Samir Soni, actresses Dolly Bindra, Veena Malik and Shweta Tiwari, male model Hrishant Goswami, singer Manoj Tiwari, soap star Sarah Khan, dacoit-turned-politican Seema Parihar and WWE wrestler Great Khali.



While coming to India, Pamela caused surprise by admitting she had never heard of Salman Khan. 'I have seen a few Bollywood films, but I don't remember any of the actors by their name. Maybe, if I see him I will be able to recognise him.'
Pamela is the second Western celebrity to appear on the show - late reality star Jade Goody also starred on the 2008 series, only to leave soon after entering the house after receiving her cancer diagnosis from doctors.