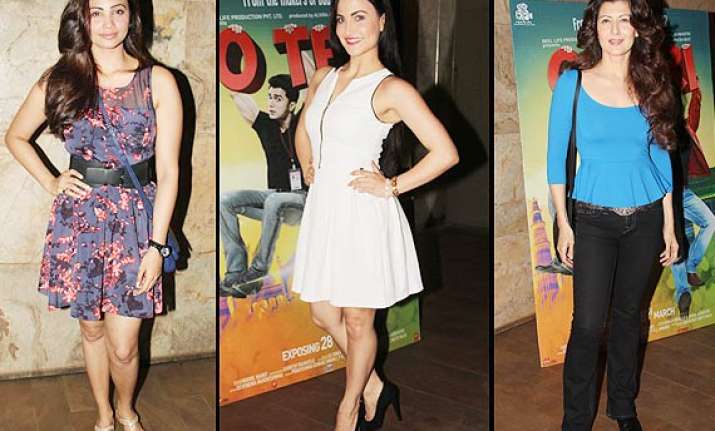 Pulkit Samrat-Sarah-Jane Dias starrer 'O Teri' had a special screening recently and the highlight of the event remained the overwhelming presence of Salman Khan's leading ladies.
Amongst the other biggies of Bollywood, who came as a surprise package was Salman's ex, Sangeeta Bijlaini and her very own peppy Bigg Boss(7) lady, Elli avram.
Not only these two, but one of Bollywood's newbie this year and Salman Khan's most latest offering, 'Jai Ho' fame Daisy Shah also marked her presence. Though 'dabangg' Khan could not make it to the screening, his presence was made assured as these beautiful ladies entered the place.
Sangeeta Bijlani is believed to be very close to Salman's family and therefore, her presence came with a bunch of happiness for Salman's sister Alvira Khan and his brother-in-law Atul Agnihotri, who also happens to be the producer of 'O Teri.'
While Sangeeta wore a not-so-fashionable turquoise coloured top and a pair of black jeans with that much broad buckled belt, Daisy chose to go casual with a chic floral print one-piece dress.
It was Salman's Katrina of 5 years back, Elli Avram who stole the lens by appearing in a well-fitted white pleated dress. As she posed chirpily for the shutterbugs, her beauty came filtered through that white perfect ensemble.
Other prominent guests in the list included, starcast of 'O Teri' comprising Pulkit Samrat, Sarah-Jane Dias and Bilal Amrohi, producer Atul Agnihotri and wife Alvira Khan, actress Neelam and husband Samir Soni.
We wonder if Salman had been there, whom would have he given the special treatment to!
Here follows a few pictures from the special of 'O Teri.' Take a look!
Th two leading men in the movie, Pulkit Samrat and Bilal Amrohi pose here.

Both the boys rock their casual image from the film.
Pulkit and Bilal pose withe the porducer of 'O Teri,' Atul Agnihotri.

Atul, who is the brother-in0law of Salman Khan roped him to do a dance number in the film, which is listing as one of the chart busters these days.
Lovely couple, Neelam and Samir Soni pose for the shutter bugs.

Both Neelam and Samir are said to be in the 'good books' of Salman and his family.
Salman's sister Alvira Khan poses for the lens here.

Alvira usually stays away from the camera, it was for the recent promotional ventures of 'O Teri' that she came in the limelight.