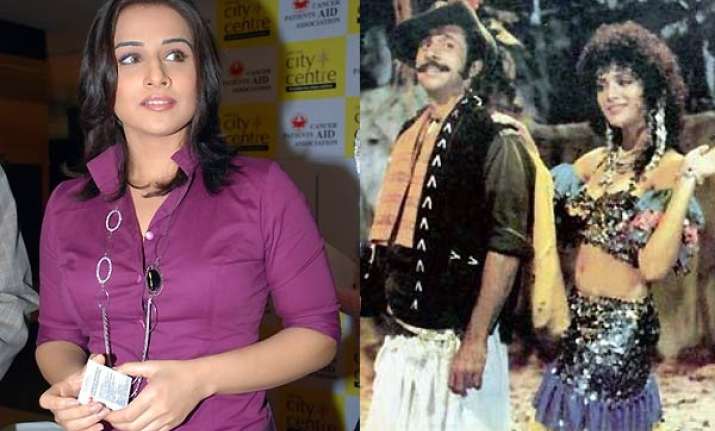 Bollywood's veteran actor Naseeruddin Shah is gearing up for a full-fledged dance number with the Vidya  Balan playing the role of the late Silk Smitha in the film titled Dirty Picture, says a media report.

The last time he came close to dancing was in Ishqiya last year.

And the only time Naseeruddin Shah really danced in none other than Saroj Khan's moves was 22 years back in the superhit song Tirchi Topiwale from Tridev.

Says director Milan Luthria,"It's 'Oye Oye' time for the Shah Of Actors again."

Shah who plays an aging actor in the film,will have to perform a full-fledged dance number for Luthria's Dirty Picture.

Vidya Balan is feeling a little out of her element with the kind of costumes and the required weight gain. She has now demanded that Shah do what he has never been comfortable doing.

In fact,the last time Shah really danced in Tridev,the media quoted him saying,"I am not really suitable for the role".

However,since Luthria and producer Ekta Kapoor are adamant on Shah shaking a leg, the latter, being the perfectionist Method actor, has demanded practice sessions for the same before the film goes on the floors.

The report quotes a source: "Naseer saab is rehearsing for his dance in Dity Picture every day at Milan's office.He comes for the rehearsal every day at 8.30 am."

"Naseer saab practices about two hours everyday. His wife Ratna comes along to boost him up a bit. And don't forget that Vidya is playing Silk Smitha. So the dance is pretty fast and difficult. Hence,Shah's nervousness is justified,especially since he hasn't done a dance number since a long time,and he hardly did it even in his hey days,"added the source.

Luthria said,"I have worked with Shah very closely in Najaayaz (1995) and Sir (1993).

"He is such an accomplished actor and yet is so much like a child. At the moment,he's rocking the dance floor preparing for a standout performance."