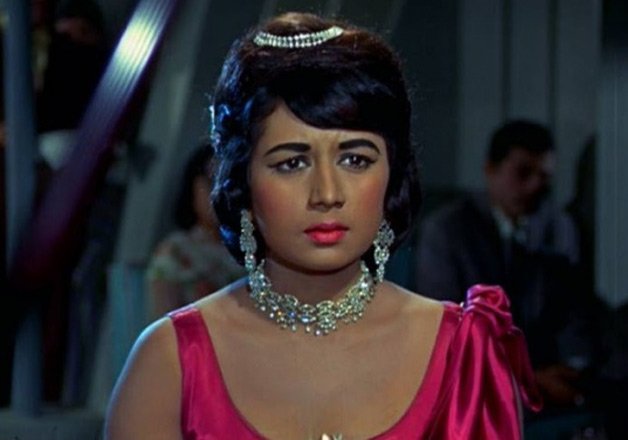 New Delhi: With fast running time and the upcoming trends in the B-town, we tend to forget some of the legendary artists that had once ruled the silver screen along with our hearts.
One such actress is Nanda.
Nanda was born on January 8th 1939 to a successful Marathi actor-producer-director Vinayak Damodar Karnataki.
Nanda had an incredible contribution in Indian film industry, and has given several blockbuster movies.
A diva of her time, she was quite popular for encouraging the new comers. Nanda had signed 8 films with Shashi Kapoor at a time when he was yet to become successful in Hindi Cinema.
The actress retired from her acting career in 1982, after giving three successful films, all coincidentally having her essay the role of Padmini Kolhapure's mother in 'Ahista Ahista', 'Mazdoor' and Raj Kapoor's 'Prem Rog'.
On March 25, 2014, the industry lost one of its finest stars, as Nanda died after a heart attack.
On her 77th birth anniversary, we bring you some lesser known facts about the veteran actress Nanda:
1. Before hitting the silver screen as a leading lady, Nanda was seen as a child artist with a screen name as 'baby Nanda'. Nanda started acting in films at the age of 8 as her father passed away and the family was dependent upon her income. However, her big break came in 1956 with a brother-sister saga Toofan Aur Diya and was given by her paternal uncle V Shantaram.
2. A diva of her time, Nanda had romanced several dashing Bollywood actors onscreen. However, the irony of her life was that she couldn't find love in her real life and remained unmarried throughout her life. The veteran actress had received several marriage proposals but she turned them down. Infact, during the shooting of the hit film Jab Jab Phool Khile in 1965, a very good-looking Maharashtrain lieutenant colonel was awestruck by Nanda's beauty and had even sent a marriage proposal to her mother but nothing happened on that front.
3. Although, after a lot of urging from actress Waheeda Rehmaan, Nanda got engaged to filmmaker Manmohan Desai, but destiny had some other plans for her and Manmohan Desai died after falling from the terrace of his flat in Mumbai before their wedding.
4. While B-town is quite famous for the cat-fights between the leading actresses, Nanda shared a great bond with her then competitor Waheeda Rehmaan. Infact, she also had a warm relationship with Asha Parekh, Sadhana, Helen, and Shammi Kapoor and used to meet them regularly for lunch.  
5. Nanda is well known her for performances in the films like, 'Bhabhi', Jab Jab Phool Khile', 'Gumnaam', 'Dhool Ka Phool', 'Parineeta' and 'Prem Rog'. With her legendary acting skills, the veteran actress turned out to be one of the highest paid actresses of her time.
6. Nanda has received her first Filmfare Award for Best Supporting Actress in 1960 for 'Aanchal'.
7. Despite of having a glorious career, Nanda gave some of the biggest hits at the end of her career. Her movies like 'The Train', 'Ittefaq' and 'Joru Ka Ghulam' did phenomenal business at the box office. These films not only starred some of the reigning Bollywood superstars of that time but also earned more than her earlier hits opposite Shashi Kapoor, Rajendra Kumar, Dev Anand, Sanjeev Kumar and Jeetendra.