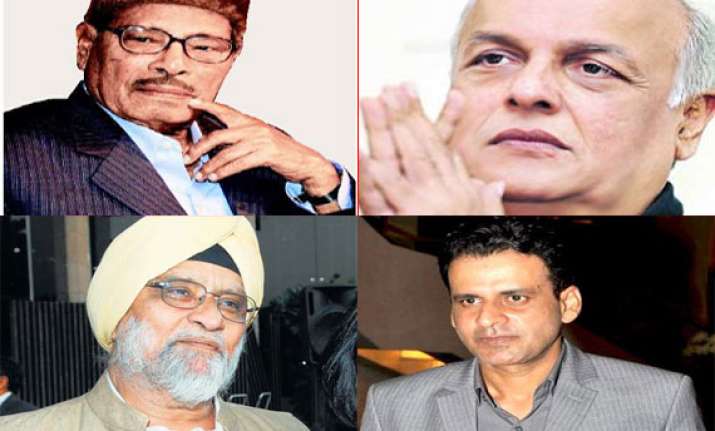 Mumbai: Bollywood biggies mourned the passing away of legendary singer Manna Dey in Bangalore.
The social media Twitter was active with outpouring of condolences from celebs.
Bollywood megastar Amitabh Bachchan:
"Log chate jate hain..Samay guzar jaata hai.. dhwani jeevit rahit hai...Amar ho jati hai!!"  (People depart.. time flies..the voice remains...become immortal)
Gujarat chief minister Narendra Modi:
"In Manna Dey, we have lost a legendary singer. His immortal voice will remain with us forever. May his soul rest in peace."
BJP MP Tarun Vijay:
"Manna Dey's magical, mysterious voice, as if coming from the clouds...voice that mesmerized us for decades, my most favorite singer. RIP"
Noted Bollywood director Mahesh Bhatt:
"Manna Dey passes away. His voice shall linger forever.R.I.P."
Bollywood director Madhur Bhandarkar:
"Mannada, a Legendary singer with a golden voice, that ruled our hearts for decades, will be missed by all. Zindagi kaisi hai paheli haye."
Singer Sunidhi Chauhan:
"Heartbroken at Manna Da's shocking demise."
Tabla maestro Zakir Hussain;
"Last of the great voice of golden Bollywood has moved on. Manna Da will be missed and forever revered"
Actor Manoj Bajpayee: 
"MANNA DEY is no more!a great singer!lets pray for him!my condolences to his family!his music will live for 1000 yrs.RIP
BJP president Rajnath Singh:
"Manna Dey gave his voice to some of the best compositions of Hindi films music. His death has left a big void in Indian music.....Deeply saddened to hear the news of singer Manna Dey's demise. His contribution to the music and movie industry will always be remembered."
Former Chief Election Commissioner Dr S Y Qureshi:
"Condoling MannaDey, the great singer, patriot and perfect gentleman. Here goes the last bastion of male singing legends of 20th century.RIP"
Former cricketer Bishan Singh Bedi :
Manna Dey was the most versatile voice of our times,a true legend.RIP Manna Dada!We'll cherish 'Ai meri zohara jabeen..' & so much more!!
Cricket commentator Harsha Bhogle:
"oh no. such terrible news to get up to. manna dey no more? less melody in the world. The song that introduced me to manna day (through my father) was poocho na kaise maine rain bitaee...then barsaat ki raat, chori chori.... my all time favourite though has to be laaga chunari me daag.....among many unforgettables of course
Singer Shaan:
From Roc n roll to Pure Classical to Melancholy to Slapstick... no one like Manna Da!!! Long live Manna Dey!!!
AITMC:
Trinamool MP Kalyan Banerjee on behalf of State Govt. pays homage to Manna Dey, lays wreath at Bengaluru