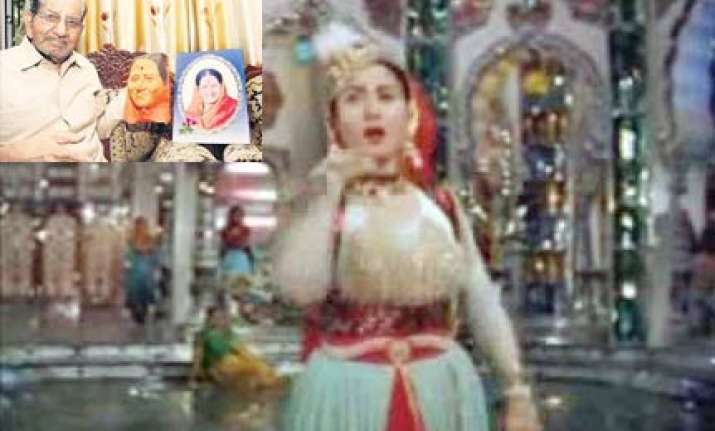 Pune: Nearly fifty years ago, the immortal song Pyar Kiya To Darna Kya was shot for the magnum opus Mughal-e-Azam with the then sensation Madhubala dancing in Emperor Akbar's court.
The Hindi film will celebrate its golden jubilee on Thursday. But not many are aware that there is a Pune connection to it, reports the Mumbai newspaper DNA.
City-based sculptor BR Khedkar had played a small but key role in the filming of the song.
The legendary Madhubala was not a good dancer, especially when it came to girki (spinning one's body), which required skill. A male dancer, Laxmi Narayan, performed the sequence during the shooting of the song wearing a mask matching her face.
The mask was so perfect that people mistook it for Madhubala herself. Khedkar created the rubber mask for the first time in India. Khedkar, who will turn 84 next week, told DNA he was 33 when the movie was made.
He was thrilled when legendary film director K Asif asked Madhubala to pose for Khedkar for 10 minutes to make the mask.
He recalled, "I was given a few photographs of Madhubala. But I told Asif-saab that she has to be personally present for some time."  
Madhubala agreed and was elated to see her beautiful statue made by the sculptor.
The statue, Khedkar said, was made of paper pulp. "In those days, there was a factory near the studio which used to manufacture balloons. I went there and requested the staff to provide melted rubber. I prepared a mould from the Madhubala statue and took it to the factory, where we poured melted rubber in the mould," Khedkar said.
The next day he was happy to see his creation and asked dancer Laxmi Narayan to apply make-up, wear Madhubala's dance costume and mask.  
When Laxmi Narayan wore the mask, Asif reacted, "Arre Khedkar, kya accha kaam kiya hai' (what a wonderful job you have done)!" That was how the dance sequences in the song were picturised.  
Art director Sayyed Kadri was confident Khedkar would be able to make the sets and moulds for the film, including the huge mural unveiled at the launch of the film.  
When Khedkar insisted on his name appearing in the credits of the movie, Asif said, "Your name will appear in bigger type, as you have done a great job."
Khedkar recalled that he had also made a mask of actor Dilip Kumar and tried it on a junior artist. As Asif was coming out of his office, he asked, "How come Dilip-saab is here? He doesn't have to shoot today." When the director realised that it was yet another mask, he spared no words in praising Khedkar.