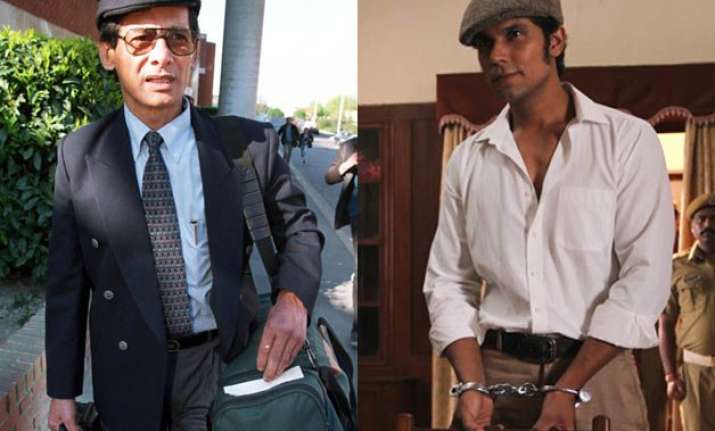 New Delhi: Our Bollywood industry has always been known for its underworld connection – be it the link ups or the extortion threats.
But what we can't miss is the Bollywood interpretation of the underworld.
The film industry has played a vital role in introducing the crime world to us through various films like Don, Satya, Vastav and many more.
While many actors have been seen playing the roles of several underworld mafias, we have a new name to add on in the list.
We are talking about the handsome Randeep Hooda who will be seen playing the famous 'bikini killer' Charles Sobhraj in his upcoming film 'Main Aur Charles'.
Helmed by Prawaal Raman, 'Main Aur Charles' revolves around the enigmatic serial killer Charles Sobhraj and his mysterious personality. Inspired from true events, the film is narrated from the perspective of a cop Amod Kanth, who was then handling the case of Charles.
The charming killer, Charles Sobhraj, is known for wooing his victims with his charisma. He used to let his charm work its magic on people; he befriended them and later either drugged and looted them or killed them. Charles was fluent in many languages and he is an expert in gems and psychology.
Randeep Hooda is playing the role of this mysterious con man and it wasn't easy for him to prepare himself for the role.
Right from the diction, to manners, body language and of course the dressing style, Randeep had to work on it all.  
Reportedly, Randeep Hooda took a long time to understand Charles Sobhraj's mystifying personality.
Infact, he was reported stating that the most difficult part for him was finding some truth in the character who has always lived a manipulated lie.
The actor did a lot of study about the 'bikini killer', gathered all the information he could. Randeep literally went into the character.
Infact the actor got really fluent with Charles diction and style as well. However, the credit for Randeep's stunning looks in the film goes to fashion designer Salim Asgarally, who promises a new look for the con man in every city in 'Main Aur Charles'.
Not just Randeep got into the character of Charles Sobhraj and took over his style entirely; the actor was also empathized with Charles. Randeep feels he is innocent and should be released, as none of the crimes against him was ever proved.
Well, while Randeep Hooda has gone way too much into his character, only time will reveal if he will be able to leave a mark as Charles Sobhraj in 'Main aur Charles' which will hit the theatres on October 30, 2015.