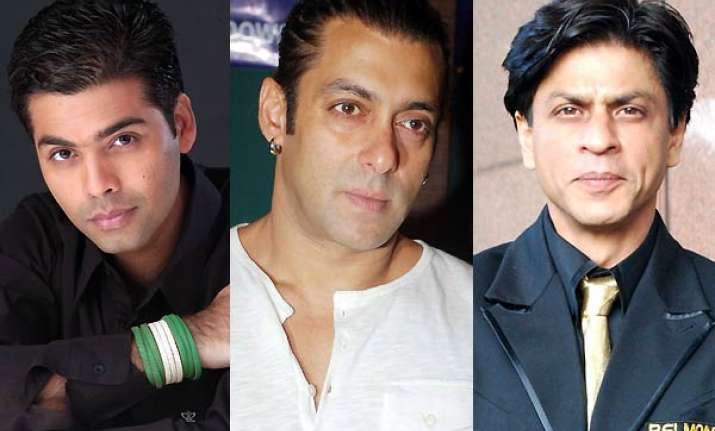 Filmmaker Karan Johar has approached Salman Khan for the next Dharma venture despite his friend Shah Rukh Khan's equation with the actor , says a media report.

Salman, who never hides his dislike for Shah Rukh Khan, has been approached by Karan Johar to feature in his next home production to be directed by Rensil D'Silva of 'Kurban' fame.

The film with Salman will be a big- budget fantasy action thriller, more or less on the lines of Hollywood hit 'Ocean's Eleven.' Rensil D'Silva, who had written the script of Aamir Khan starrer hit flick 'Rang De Basanti', is the man credited with the writing, says the report.

However, it was Karan Johar and Rensil both who felt that only Salman Khan, with his macho personality, would be able to do justice with the lead in the film, and hence, decided to approach the mega star.

But, the move from Karan Johar's Dharma Productions to have Salman Khan on board despite Karan's friendship with Shah Rukh Khan, has surprised one and all.

Till now, Karan Johar has always kept a safe distance from Salman due to his SRK connections.

But now it seems that Shah Rukh Khan's grip on Karan Johar is loosening day by day as even before Salman, Karan Johar had decided to cast someone like Varun Dhawan in his upcoming movie, rather than going for his friend Shah Rukh Khan.

Varun Dhawan, who is David Dhawan's son, is all set to make his bollywood debut with Dharma Productions' 'Student of the Year'.

There are several theories doing the rounds in the industry in this regard.

Of course, the most prominent of them all relates to Salman Khan's new found status in the industry after his super successful films like 'Wanted' and 'Dabangg' at the box- office.

Analysts point out that Salman Khan is the latest flavor of the season and no production house of repute can ignore him.

Karan Johar's 'Kurban' with Saif Ali Khan-Kareena had bombed at the box office. And it can not rely only on Shah Rukh Khan, who is already busy with his own production 'Ra.One' and does not have much time for outside productions, to deliver hits at the box- office.

Earlier, even Yashraj Films had to compromise on its remuneration policy to rope in Salman Khan for its upcoming mega budget film to be helmed by director Kabir Khan.

It is no secret that Yashraj Films has always favored SRK over Salman and most of their hit films had been with King Khan only, but things seem to have changed now.

And then, Karan Johar is no stranger to Salman Khan. In fact, the latter had even worked with him in his directorial debut flick 'Kuch Kuch Hota Hai'. But afterwards, they never worked together.