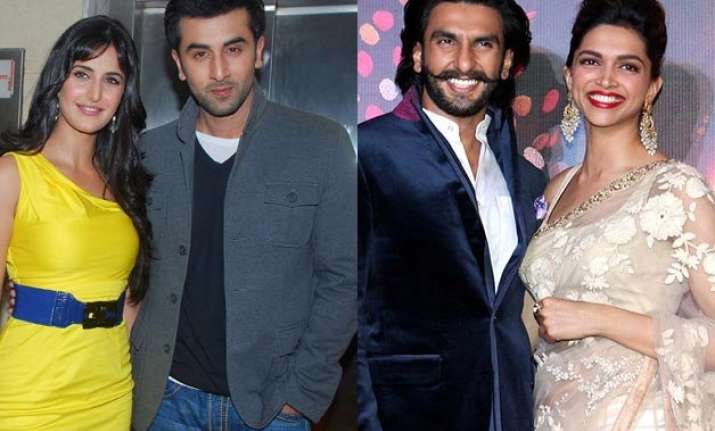 New Delhi: Looks like actress Katrina Kaif loves creating trouble in contemporary Deepika Padukone's life. First she stole Deepika's boyfriend actor Ranbir Kapoor and now she is in the mood to repeat history again.
Not long ago, Deepika Padukone had commented that she looks better on screen with Ranbir Kapoor than she does with current beau, actor Ranveer Singh. Ranveer being the possessive boyfriend had disagreed with her statement. It then became quite clear that Ranveer always wanted Deepika and himself to be the most sensual pair on and off screen.

Of course Katrina Kaif wasn't going to be quiet on Deepika's comparison. When the media asked the Phantom actress how she felt about it, she said, "Much as I love everybody in the list of people you gave me, I can honestly say that I really don't have an opinion on the matter.''

She went on, ''Let us put it this way. It is not something I give a lot of thought to. That means giving the matter too much importance and I am not going to sit and think that I look better than her with Ranbir.''

And this flushes Deepika's motive of making Katrina jealous down the gutter!

This however wasn't the end. Katrina sure knows how to make a comeback and turn things to her benefit. She further added, ''Deepika is a great actress, will make a great pair with anyone, any male actor she is paired with. I think I make a great pair with Ranbir and Ranveer also!" Katrina said.
Now that Katrina Kaif has expressed her desire to work with Ranveer Singh, we wonder what Deepika Padukone has to say on this.