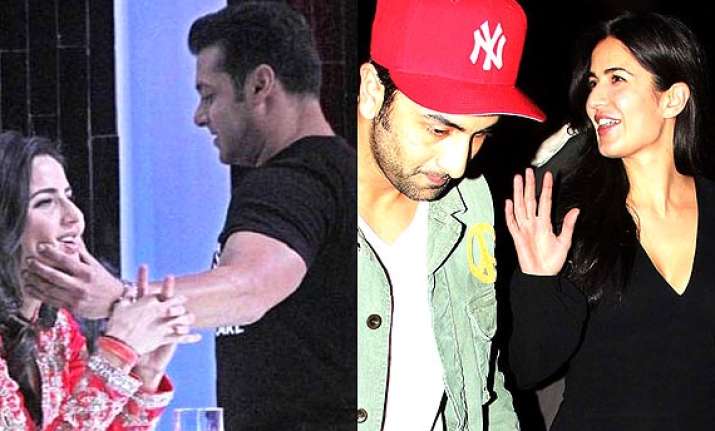 New Delhi: Bollywood's golden girl Katrina Kaif who has turned 31 this year has been quite popular among her male co-stars.
The Bollywood beauty has always been tight lipped about her love life; she denies sharing her private life with the media. Over her career that spans exactly a decade, she has been linked with a couple of Bollywood hotties.
KATRINA KAIF AND SALMAN KHAN: Love saga
Their love story has always got attention from fans and media alike. There was a point when they were always in news for their break ups and make ups.
 In the early phase of their relationship both were extremely passionate about each other, though they never admitted to having an affair in public but actions spoke louder than words.
Salman was a typical over possessive, over protective boyfriend while Katrina too, being a new-bee went under Salman's protective wings and found joy & success.
 Post their splits-ville 2 years back, the couple continues to maintain a warm relationship and shares a strong emotional bond, which is noticeable by their gestures. Katrina is still a regular at Galaxy Apartments.
KATRINA KAIF-RANBIR KAPOOR: The new love birds in town

Just when the rumours of Katrina salman break up were afresh, she singed a film with scion of Kapoor family the young, dashing and charming, Ranbir Kapoor.
She was floored by his charm and mannerisms unlike Sallu he was cool headed and romantic to the hilt also he was same age as Katrina the couple took an instant liking for each other. The film starring Ranbir-Katrina together became a huge hit and the rest as they say is history.
Both Ranbir and Katrina smartly manage to keep their love life private. But the two were pictured holidaying in Ibiza, the duo was even spotted attending a David Guetta concert in Spain.
Reports about Ranbir and Katrina's proximity regularly kept appearing in the tabloids. Often her car would be spotted entering his bungalow on Pali Hill.
At times, they were spotted at restaurants in and around Bandra. They even spent the New Year's eve together in New York in 2012. There is strong rumours that Katrina and Ranbir may go for live-in relationship.
KATRINA KAIF AND AKSHAY KUMAR: The 'top' secret
This "Namaste London" couple was said to be an "item" after starring in so many movies together. Their hot sizzling chemistry on-screen set the rumour mills on fire.
 They are also considered a very lucky pair, movies wherein the both have worked together after "Namaste London" have been huge hits, be it "Singh Is King", "Welcome" or "De Dana Dan".