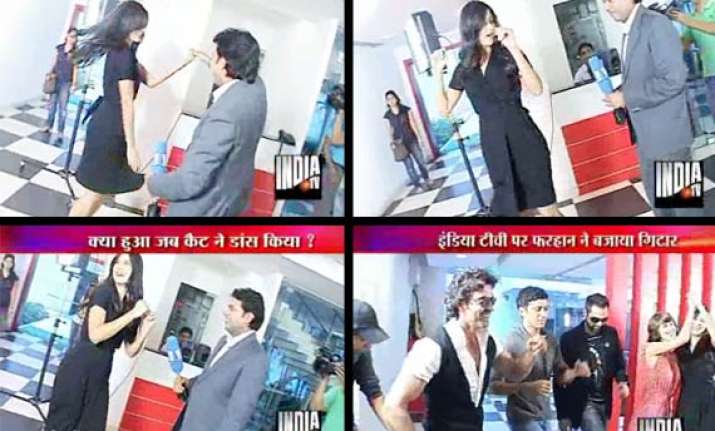 New Delhi, July 12: Bollywood stars Hrithik Roshan, Katrina Kaif, Kalki Koechlin, Farhan Akhtar and Abhay from the Zindagi Na Milegi Dobara cast did an impromptu jig at the India TV Broadcast Centre on Monday as part of their roadshow.
 
The stars had come all the way to Noida from Mumbai by road. Katrina, cut her birthday cake on the occasion and said 'I'm 28', to which Hrithik quipped: "I'm 37'.
 
"I feel very very blessed for doing Zindagi Na Milegi Dobara", said Hrithik. "If I get a chance to work again I will definitely to work with all my friends every two years".
 
Hrithik revealed how during the Tomatina festival in Spain, the actors were supposed to squeeze the tomatoes and then throw, but Katrina didn't squeeze.
 
Said Farhan Akhtar: "This is the story of three friends, no doubt, but the similarity with Dil Chahta Hai stops there."
 
'Dosti and Masti' is how we can sum up this film, said Katrina, while Kalki said they had a lot of fun together.
 
Directed by Farhan's sister Zoya Akhtar and produced under the banner Excel Entertainment, Zindagi Na Milegi Dobara is about a holiday that changes the lives of three best friends - Arjun (Hrithik), Imraan (Farhan) and Kabir's (Abhay) forever.
 
The film was previously titled Running With The Bulls but the name was later changed to the present one.
 
It is the second directorial venture of Zoya after critically acclaimed Luck By Chance.

Kabir, a wealthy young man who works with his father's construction company in Mumbai, is engaged to Natasha (Kalki Koechlin), daughter of a hotelier.
 
Kabir wants to go on an extended bachelor party with his best friends Arjun, and Imraan, before he ties the knot with her and invites them to join him.London-based Arjun is a financial trader who works at a huge firm.
 
As he grew up without a father and lived a tough life, so his entire focus is to get bigger, better and faster, while Imraan is a copywriter who works at an advertising agency in Delhi.

When Kabir offers to take them on a vacation, Imraan readily agrees, but Arjun is reluctant as he is too tied up in his work. However, after much cajoling he agrees and thus starts their Spain sojourn.
 
All three meet up in Barcelona and set off on an adventure that helps them iron out their differences, get rid of their fears and alter their perception about various things in life.
 
The holiday turns out to be a lesson in life for them and force them to break out of the box. The three-week journey changes their lives forever.

As luck would have it, Laila, played by Katrina Kaif, a bohemian fashion student from London is also there.
 
She takes time off to teach diving every year and this time she decided to do it in Spain, where she meets Arjun, Imraan and Kabir. The mega-budget film has been extensively shot in Barcelona, Pamplona, Bunyol, Andalucia, Egypt and Mumbai.
The La Tomatina festival of Spain was re-created for the shoot of the song "Ik Junoon".

It was shot in Bunyol, Valenci, in Spain. Almost 16 tons of tomatoes were used for the shoot and were flown in from Portugal. The film has already created a lot of buzz with its songs and promos.

After a long time Abhay got an opportunity to work in a mainstream commercial film and it also gave him a chance to make good friends with his co-stars Farhan and Hrithik in real-life.

While shooting for the film, the three did some adventure sports like skydiving and scuba-diving. Zoya has also made the three lead actors of the film sing a song "Senorita", composed by trio Shankar-Ehsaan-Loy, is a rage among people.