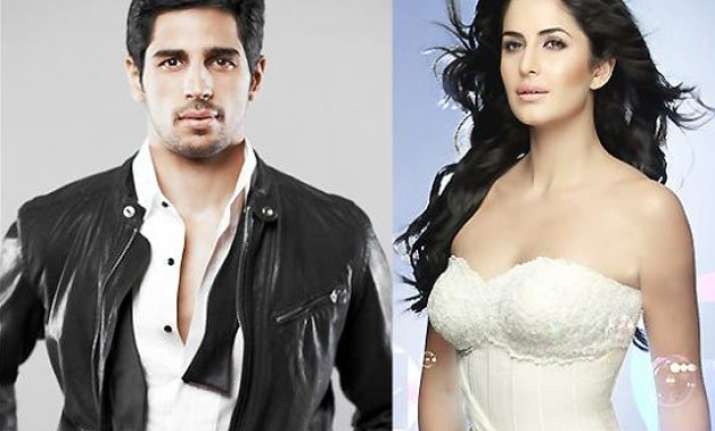 Looks like our Bollywood actors are pushing their boundaries to bridge the gap between reel and real. Actors like Amitabh Bachchan in Paa and Aamir Khan in Ghajini went through a lot of appearance changes to be close to their characters.
Joining the league of these actors are Siddharth Malhotra and Katrina Kaif.
Sidharth and Katrina, who are coming together for the first time for Farhan Akhtar's next home production, will be wearing prosthetics make-up. The actors have agreed to it and given their approval to the director Nitya Mehta.
This directorial debut of Mehra is an untitled love story and the lead pair will play a couple ageing from 30 to 60 years.
In an interview, Sidharth confirmed this and said, "There are different age groups that we have to play in the film. I have to age as the character grows. I am playing a character who grows from the age of 28 to 46 to 60. And to play these parts is tougher for me. I am excited to try prosthetics look."
Giving insights of who will handle the make-up, the Ek Tha Villain actor said, "I and Katrina are trying different looks. We have a great prosthetics team from London Mark Hulio, who won an Oscar (award) recently. We have an A grade team in make-up and prosthetics."

This untitled movie is not a time travel movie as it was rumoured. "It is not a period film.. it's not time travel. It is a journey of this couple, a love story that spans across different age groups," Sidharth pointed out. He also added, "We are preparing for the film and have done enough workshops. We are quite excited to start it."

When the 30-year old was asked about his experience with established actors like Akshay Kumar (with whom he acted in Brothers which is releasing on 14th August) and Katrina Kaif, the actor said there isn't any nervousness. "There is no nervousness in working with established stars as such. The film (Nitya Mehra's film) is way tougher because I have to play different age groups," he said.
With this news we are sure the fans will be more excited and eagerly waiting for the first look of the cast in make-up.