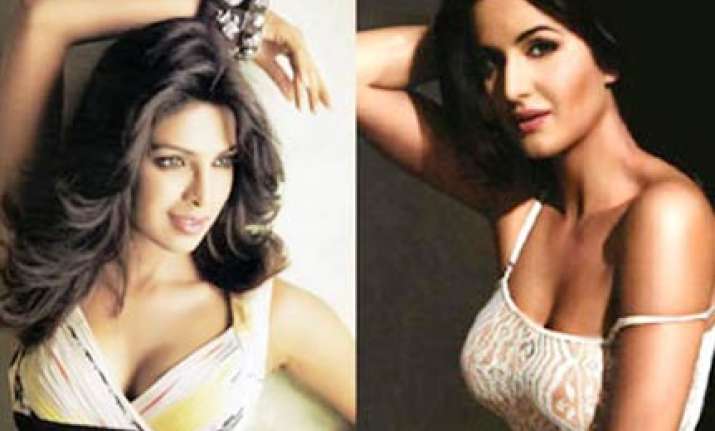 Bollywood stars Katrina Kaif and Priyanka Chopra were spotted on the set of an Ajay Devgn film earlier this week. The rivals haven't signed a film together with the actor but were simply visiting him on the sets of his Madhur Bhandarkar film, Dil Toh Bachcha Hai Jee (DTBHJ), reports Mid Day.
Says a unit member, "Ajay appears to have become the most popular actor in B-Town. The flurry of beauties thronging his shoots prove that. The ladies were at Yash Raj Studios on private business but when they heard Ajay was shooting there, they dropped in to say 'hello'."
On Monday, AJ's Rajneeti co-star Katrina Kaif was seen on the set. She was at the studio to meet Aditya Chopra, but later dropped by the DTBHJ set.
The source adds, "But the biggest surprise was PC. She and Ajay share cold vibes since  Naam, their first film together, fell through. PC had walked out of the film after shooting for it for three days." He never forgave her walking out of his film. The producer of Naam, Dinesh Patel is the actor's good friend and her walkout had created financial issues for the producer.
Priyanka's arrival on Devgn's sets came as a shock to everyone. The source adds, "She dropped in when Ajay, Emraan Hashmi, Madhur, Kumar Mangat and a few other people were sitting at the canteen and chatting during a break. While Kumarji (as he is known) treated her to coffee, the actress treated everyone to samosa chat, a canteen speciality. Everyone had it except Ajay (he's on a diet)."
Apparently, she complimented Devgn on his  performance  in Once Upon A Time In Mumbaai. The actor reciprocated by talking about her work. She left soon after. Ajay's Golmaal 3 heroine Kareena Kapoor returns to Mumbai this week. We won't be surprised if she is the next actress to be spotted on AJ's set.