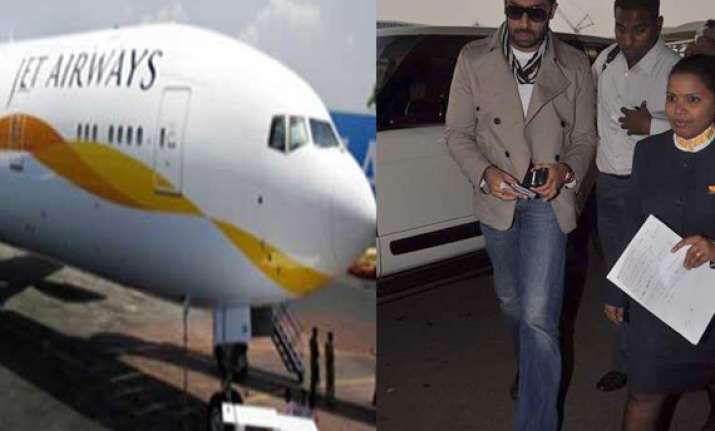 Mumbai, Feb 14 :  Bollywood actor Abhishek Bachchan is miffed with Jet Airways, after their staff stopped him from boarding the plane for being late, despite collecting the boarding pass, says a media report.

Abhishek then opted to fly by another airline to Jaipur where his shoot for Bol Bachchan with Ajay Devgn, Asin and Prachi Desai was delayed by three hours.

The actor sounded upset with the experience as he tweeted: "Jet Airways, you just lost one of your most loyal customers."

Abhishek  was taking the 5.50 am Jet Airways flight to Jaipur, but  when he went to board the aircraft he was stopped for coming late.

The report quoted a source from the sets of the Rohit Shetty film:  "In fact, Abhishek had even been given the boarding pass at the check-in counter. And strangely his luggage wasn't loaded either even though he had asked for it to be checked in."

The source said it was the fault of the airline representative at the check-in counter.

"It seems that she didn't inform her colleagues at the last counter before boarding the flight. Even after Abhishek wasn't allowed to get onto the aircraft, she could have intervened because she had issued the boarding pass.But it looks like she didn't care much and didn't take the initiative of attending to a passenger despite no fault of his," he added.

Displeased with the turn of events, Bachchan booked a ticket on an Air India flight that was departing for Jaipur at 8.40 am.

A spokesperson of Jet Airways stated, "We were awaiting the guest's arrival for the early morning Jaipur flight. However, due to boarding gate closure procedures for all airlines to depart on time, the guest could not be accommodated on this flight. The guest was looked after at the lounge and an alternate flight was offered. Inconvenience caused to the guest is regretted."