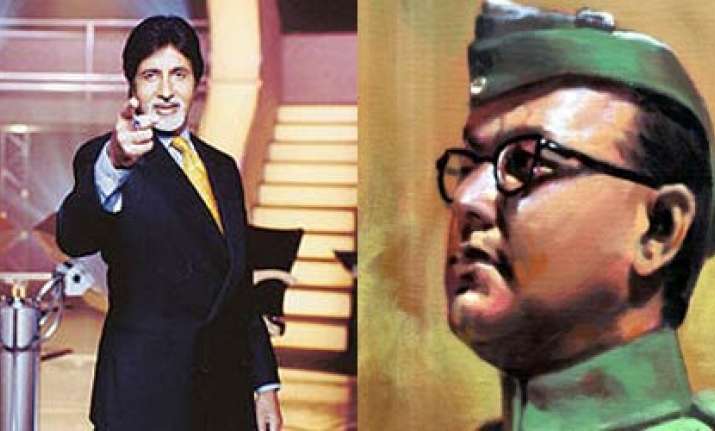 Mumbai, Jul 5 : The Bombay High Court today issued a notice to Bollywood legend Amitabh Bachchan and the Information and Broadcasting ministry over a PIL in which it has been alleged that a promo for Kaun Banega Crorepati-4 has insulted and maligned Netaji Subhash Chandra Bose's historic slogan "Tum mujhe khoon do, main tumhe azaaadi doonga". 

The PIL filed by Mukesh Sharma says, out of the six scenes from the promo, five are insulting and derogatory to Netaji`s slogan.

Some scenes in the promo show that people were unaware about the slogan and Netaji`s role in freedom struggle, the PIL said.

On the sets of 'Kaun Banega Crorepati', Bachchan asks a child "who said this? -- You give me blood and I will give you freedom" and the child replies "just now you said it" and then stops in a confused state of mind.

Bachchan tells him, "somewhere you have heard this".

The actor then tells viewers, "ladies and gentlemen from the start I have been saying that any question cannot be small."

In yet another scene, two patients donating blood ask the doctor, "you took our blood. When will you give freedom?" and they laugh loud.

In another scene, a student kills a mosquito which sat on his forearm and says "You drank my blood and I will give you freedom."

The petitioner said he was immensely hurt by the promo which is being telecast by Sony TV channel.

He said that the promo gave the impression that people were unaware about the contribution of Netaji Subhash Chandra Bose to freedom struggle of the country. Such a promo was an insult to the great freedom fighter who laid down his life to free India from the British rule, the PIL said.

The petitioner stated that such cantankerous and surreptitious approach of the respondents will bring about a feeling of insecurity among Indians. Moreover, such approach will harm the integrity and harmony existing among the people.

The PIL came up for hearing before a bench headed by Chief Justice Mohit Shah. The Central Board of Film Certification (CBFC) filed its reponse today.

CBFC`s counsel Rui Rodrigues argued that the promo was not derogatory but was funny and that the examining committee had gone into it before clearing the same. However, the judges said they would go into the issue mentioned in the PIL.

The PIL, which has also made anchor Amitabh Bachchan a respondent, said it was surprising why the legendary actor did not rescue himself from playing his act in the promo.