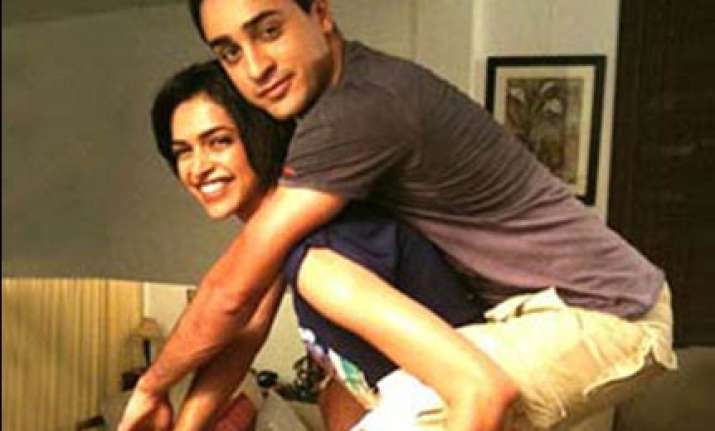 Bollywood actor Imran Khan gives five foolproof ways to end your relationship with your girlfriend without incurring her wrath:
1 Tell her you are moving to Australia and will message her your new number once you reach there. Obviously, she will never hear from you again.
 2 Hire two guys in black suits to walk up to her. Make them tell her, 'Your boyfriend is a terrorist and we want you to spy on him for us." I am sure she wouldn't want to be associated with a terrorist!
 3 Salman gave me a nice tip when I went on Bigg Boss. I think that would also work. Tell her: "My father doesn't like you, and even my mother doesn't like you. So we should break-up!"
 4 Hold her close, look intensely into her eyes and say, "Sweetheart you remind me of my mom!" I think she would take the cue and walk away.
 5 Set up a shrine of her mother in your bedroom. Before she comes to your place, make a shrine with pictures, images, maybe some items of her mom in your bedroom. She will definitely freak out over the thought of you obsessing over your future mother-in-law and run away!
 Deepika Padukone's 5 tips on how to get back your ex-boyfriend:
1 I think the girl should gift her ex a diamond solitaire. Nothing says 'I am serious' like a diamond ring.  They say diamonds are a girl's best friends, but the same holds true for a guy. I am sure that will win him over.
2 Do something nice for the ex. Like plan a trip for your ex and send him to Russia with his buddies. It's every guy's dream destination what with all the booze and the babes. Would be a nice way of telling him to have one last fling then 'come back and get serious with me'.
3 This one is edgy. Tell your guy that he reminds you of your father. A dad stands for someone who loves you, protects you and takes care of you. That ought to flatter him and woo him over.
 4 Show up with a bottle of his fav poison at his doorstep. Get drunk and smashed with him. Let him know that you can be one of the guys and have real fun as well. Let your hair down and he will see you are as much fun as his friends. He'll never want to let you go. Once the hangover is done, the next morning both of you will have a story to tell each other.
 5 Be generous. Set him up with a girl he has a crush on. Let him know you have moved on from being possessive and are mature enough to see him go on a date with someone else, if that is what he wants. He will realise you are an angel and fall in love with you all over again.