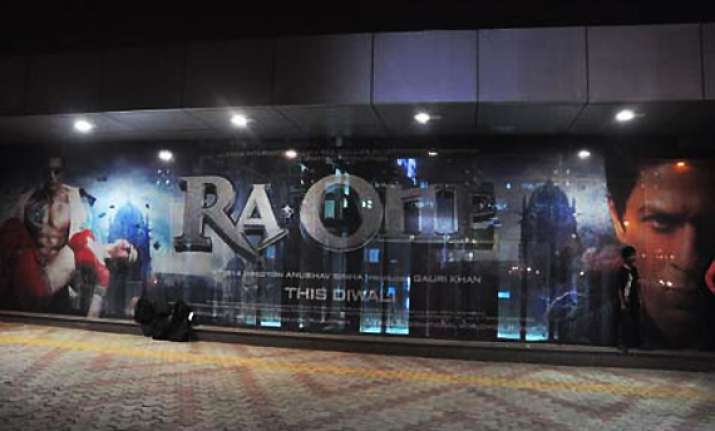 New Delhi, Oct 22: With Delhi Metro reluctant to spare its trains and station premises for film shootings, the Reliance Airport Metro Express is now finding it a lucrative way of not just showcasing the new metro line it manages but also making a quick buck, reports source.

The first film shooting on the line is slated for October 28 for Mahesh Bhatt's upcoming sequel of 'Jannat'.

However, the Metro line got a taste of Bollywood flavour on Wednesday when Shah Rukh Khan hopped onto the public transport system for a ride as part of a promotional event for his upcoming film Ra.One. The actor interacted with and felicitated real life heroes from the city.

Eleven-year-old Jatin Kathpal, who bravely fought with burglars who had broken into his house when he was alone at home; Kuldeep Singh who lost his eyes while saving many lives during a bomb blast in Delhi; Pawan who alerted officials about a train on fire and Ashok Randhawa who works for terror victims were among the awardees.

Officials said there have been several requests for shooting on the high speed metro line and this could be attributed to the fact that shooting at the world class terminals and coaches is quite economical when compared to metros of other foreign cities.

"World class, hi-tech facilities are made available to the film producers at very cost effective prices," an official statement from Reliance Infrastructure, said.

Anil Gupta, President, Reliance Infrastructure Limited said, "Since the line was launched in February 2011, many requests for film shootings and organising events have come. We are pleased that Shah Rukh Khan chose Reliance Metro for the Ra.One promotional campaign."

With a ridership of 18,000 passengers per day, which is said to be way below the projected ridership figures of 25,000 commuters per day, and a high operating cost, the revenue from film shootings is expected to fetch crucial earnings for the operator.

The minimum charges (license fee) for one hour of shooting inside the Delhi Metro premises costs as much as Rs 1 lakh, excluding service tax. There are separate charges for hiring a special train and shooting inside it. The special train is available only on its return trip, for which Rs 66,264 is charged on the basis of Rs 22 per head for 1,506 passengers.

However, Reliance Infrastructure has declined to reveal the rates charged for shooting on the airport line.