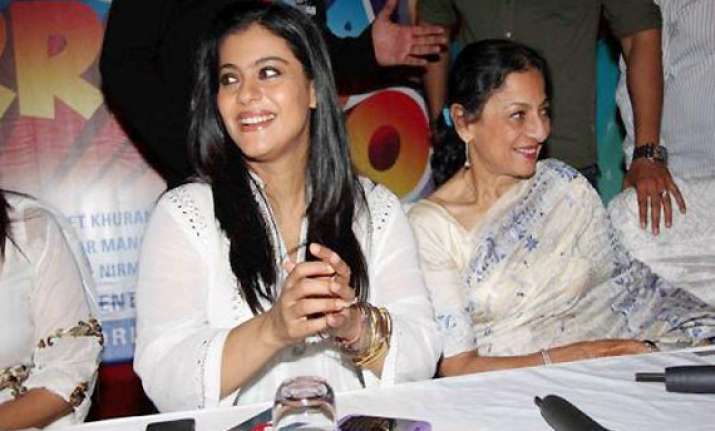 New Delhi, Mar 26: Bollywood actress Kajol says as much as she would love to team up with her mother Tanuja on-screen, she is too scared to work with her.  
The 37-year-old, who worked with the veteran actress only once in 1992 film "Bekhudi", says her mother is a perfectionist and it scares her to match up to her perfection.  
"My mother scared me while we working together in 'Bekhudi'... She just gave the perfect shots and it was my first film. I had goosebumps thinking that I have to work with her and do what she does," said Kajol, who was in the Capital to launch Bhaichand Patel's book Bollywood's top 20, in which she features along with actors like Madhubala, Dilip Kumar and Dev Anand.
Kajol said she hasn't been offered any script featuring her and Tanuja, 68, but she would love to work with her.  
"I haven't got any scripts but I would love to work with her. She is the best actress I know," she said.  
The actress, who has been missing from the big screen after the release of her 2010 film "We Are Family", says she doesn't miss being a part of films.
"I am enjoying my life right now. I don't miss doing films. Sitting at home and taking care of the family is a lot of work. I have a life beyond films and love being there for my family," Kajol said.
She has a career spanning over two decades and has given blockbuster films like "Dilwale Dulhania Le Jayenge", "Karan Arjun", "Baazigar", "Kuch Kuch Hota Hai", "Kabhi Khushi Kabhie Gham" and "My Name Is Khan" but Kajol says she doesn't think of herself as a superstar.
"I don't think of myself as a superstar. Everybody has their own opinion. Some people think I am a star and some don't, but it doesn't matter to me. All that matters is what I know and think of myself. If I am content with my work I am happy," she said.
The actress also said she has not signed any film recently and is waiting for the right kind of project.  
"I haven't signed any film... I am reading scripts and waiting for the right kind of story. I will do only what convinces me," Kajol said.