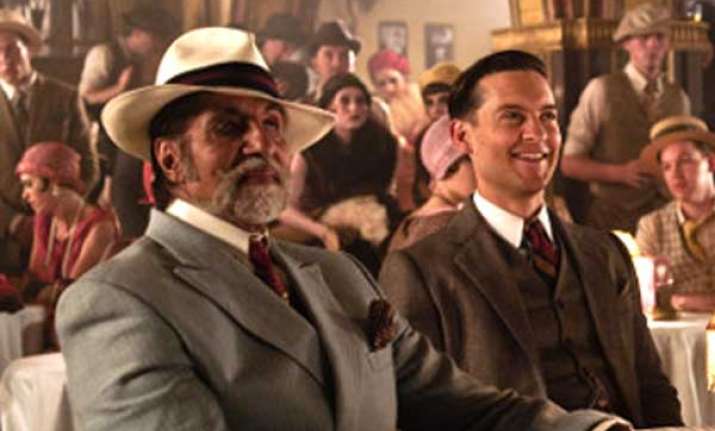 Mumbai  : Megastar Amitabh Bachchan, who has a blink-and-you-miss-it role in Hollywood film 'The Great Gatsby', says, he did the film for free as a gesture. 
Directed by Baz Luhrmann, 'The Great Gatsby' stars Amitabh Bachchan, Leonardo Di Caprio, Carey Mulligan, Tobey Maguire.
"My role is just small and hardly of a minute. Baz Luhrmann was touring India on a motorcycle couple of years ago..going all over the country.
He dropped in at my office with a friend who did some painting work for me.
We just had a casual conversation and he left," Bachchan told reporters here at a promotional event of KBC.
"A year-and-half ago he called me and said he has a small role for me, which he felt was not worthy for me. He asked if I would do it and I readily agreed. I did it as a gesture. It is not remunerative...I have not charged anything...just a gesture," he said.
The 69-year-old actor, who essays the role of Meyer Wolfshiem, is seen sporting a moustache and beard in the trailer of the film.
"I still don't have the liberty to talk about the film. It is the contract that binds me...for talking about the film, my role. All I can is that I am very happy and delighted to have work with a genius person like Baz Luhrmann," he said.
"Many films have been made on it (novel), this is the third edition. A huge amount of detailing, research and there whole system of working is so well organised...it is a great pleasure to be working with them," Big B said.
Amitabh is happy about sharing screen space with Hollywood biggies like Leonardo Di Caprio, Tobey Manguire and others. "My experience of working with Baz, Leonardo, Tobey, Carry is wonderful. I am happy to be working with them," he said.
'The Great Gatsby' a 3D romantic drama , is an adaptation of the classic F Scott Fitzgerald novel with the same name.
Meanwhile, he also talked about his other two pending projects - Soojit Sircar's 'Shoebite' and Mira Nair's 'Shantaram'.
Directed by Soojit Sircar, 'Shoebite' stars Amitabh Bachchan, Dia Mirza, Jimmy Shergill and Sarika.  Earlier, Percept Pictures was to make the film with Amitabh Bachchan but later UTV Motion Pictures stepped in.  
Talking about the same, Big B said, "'Shoebite' was the idea that Percept first worked on and then UTV came in picture and Soojit Sircar came on board. We shot the entire film. Then UTV said they have got some legal problem with 20th Century Fox as they said this property (subject) belongs to them."
"We had to tell them (20th Century Fox) that we are through with the shooting of the film. Now this matter with UTV. I don't know what the outcome is. From our side the work is over.
Hope that the film will get released soon," he said.  The other project is internationally acclaimed filmmaker Mira Nair's dream project 'Shantaram', a 2003 novel by Gregory David Roberts, with Bachchan, which seems is going to get revived.
The film was then set to star Hollywood actor Johnny Depp, playing the lead role, and Bachchan. Few years ago when Mira Nair had terminated the plan to shoot the film and the project got shelved.
"'Shantaram' was never put on floors. Mira Nair had come to me saying she wanted me to do a role in the film.  Also, the film was to feature Johnny Depp and she was excited about it. I agreed to do the role," Bachchan said.
"Later she told me that they have abandoned the project. I don't know what is happening with 'Shantaram' now," he said.