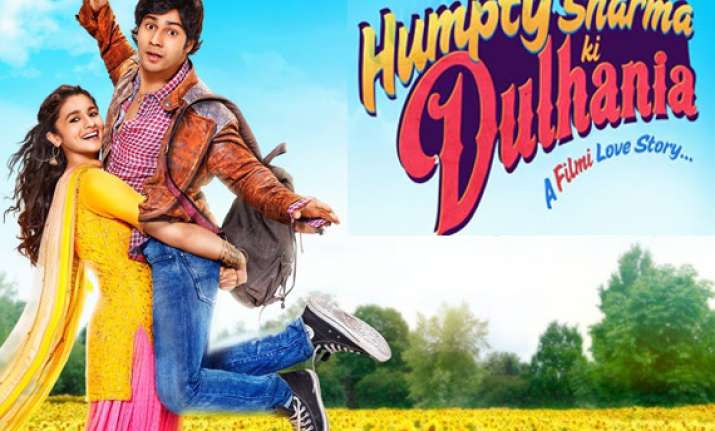 Humpty Sharma Ki Dulhania has a cute love story. It isn't a copy of DDLJ but you'll love Alia-Varun as much as you adored Shah Rukh-Kajol almost two decades back.
Ratings-***
Stars- Varun Dhawan, Alia Bhatt, Ashutosh Rana, Siddharth Shukla
Director- Shashank Khaitan
Music director- Sachin-Jigar & Sharib-Toshi
From the classic romance drama Dilwale Dulhania Le Jayenge to Humpty Sharma Ki Dulhania, Bollywood has come a long way creating some exceptional love sagas yet we cherish the former for its unbeatable zeal and aura.
If Humpty Sharma Ki Dulhania is an attempt to give an ode to the Sharh Rukh Khan and Kajol starrer, which is an evergreen and still a classic example of a love tale, we won't term it to be a perfect one. Yet, it undoubtedly makes you flow with its essence of affectionate mood.
Debutant director Shashank Khaitan, brings in a love story, which is a bit filmy but is essentially the need of this flick.
The premise, however, has many similarities to 1995 blockbuster DDLJ but it's the treatment, which gives this romantic comedy an absolute different shape.
If Simran went to Europe, Kavya Pratap Singh (Alia Bhatt) is off to Delhi. If Raj came to Punjab to win over Simran's bauji Chaudhary Baldev Singh (Amrish Puri), Humpty Sharma (Varun Dhawan) travels to Ambala with his two best pals to influence Mr. Singh (Ashutosh Rana). And while there was Kuljeet (Parmeet Sethi) to marry Simran, here we have Angad (Siddharth Shukla) as NRI to take away his bride abroad. Also we have railway station scene in common.
Despite these many similarities, Humpty Shamra Ki Dulhania varies vastly. There are different situations to deliver them and are all refreshing. In the initial five minute itself, Humpty is seen watching DDLJ where you get an idea that the flick is set to give a tribute to 1995 classic.
Director Shashank carries the premise responsibly and continues to surprise us with its unpredictable twists and turns particularly in the second half. With this "Humpty Sharma.." possesses a novelty with its cute and loveable cast.
Just when you get a feeling that current scene is going to be a complete recreation of the 1995 superhit, Shashank proves us wrong and that is where we are left with an astonishing reaction on our faces.
Most of all it's the chemistry of the onscreen pairing who even if is silent, can emote you immensely with their expressions. You wouldn't stop adoring this modern day girl giving the Delhi guy a run for the money in beer competition while Humpty's attempt to fight for his lady will make you sympathise for him. The communication with dialogues brilliantly written for the two makes the sequences look more viable.
The melodrama too is here to stay, which mostly shapes up in the second half after we have traveled through the desi fun and frolic road in the first half. For why it doesn't come out to be a perfect tribute is because we aren't able to take anything memorial back home.
Director Khaitan also looks perplexed while giving this flick a proper conclusion in the climax which goes abrupt. But till then you will have abundance of entertainment with the lead couple- Alia and Varun who make this flick special. Alia Bhatt is a gem we must say. The young actress's act is effortless. After Highway and 2 States, with this flick she adds another feather in her cap.
Varun Dhawan gives a fine performance. A little perplex, heart-broken elements, which his character requires, Varun fits in every bubble of the act quite efficiently.
Siddharth Shukla gets a big opportunity and he makes it even bigger with his act. As a gentlemen yet tough NRI, Siddharth Shukla looks brilliant, though he gets little to explore.
Ashutosh Rana as Alia's strict yet lovable father is too good. Gaurav Pandey and Sahil Vaid as Varun's friends are simply terrific.
Stepping into Music by Sachin-Jigar & Sharib-Toshi is captivating. The songs were already the chartbusters the background score too nails in every scene.
I'll go with three stars for Humpty Sharma Ki Dulhania which has a cute love story. It isn't a copy of DDLJ but you'll love Alia-Varun as much as you adored Shah Rukh-Kajol almost two decades back.