Follow us on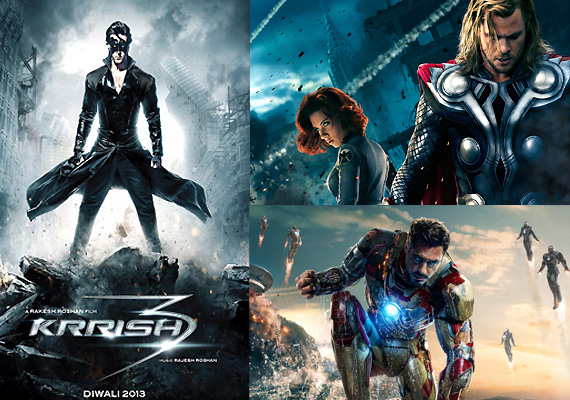 Mumbai, Aug 7: Actor Hrithik Roshan feels that Hollywood films like 'The Avengers' and 'Iron Man 3' have raised the bar for superhero movies but he is ready to face comparisons and compete with these biggies when 'Krrish 3' hits the screens.
"When we saw the look of 'The Avengers', 'Iron Man 3', 'Superman'...it was awesome...they had raised the bar... They have taken it to another level. We had to stand up and face competition," Hrithik told reporters here at the trailer launch of 'Krrish 3'.
"Why not compete with them and find out what we can do," he said.
'Krrish 3' has Hrithik,
Priyanka Chopra
, Kangna Ranaut and Vivek Oberoi in lead roles.
The film boasts of special effects, which director Rakesh Roshan decided to get it done here to encourage and promote local talent.
Even as everyone is looking forward to the release, Hrithik wants to keep everything relating to the movie under wraps.
"I would not like to talk about my powers... want to keep it a suspense," he said.
In the third installment of this superhero series, Vivek and Kangana are the new additions. They both play antagonists.
"I loved working with the Roshans.. they are genuine, large hearted. I believe if you have a legendary director like Rakesh Roshan then you can play any character convincingly, it is his brilliance... he has created the character," Vivek said.
"The credit goes to writers and Rakesh sir," he said.
It was Hrithik, who wanted to play the evil character played by Vivek but the director was not convinced.
"I wanted to play the villian. I think my dad was biased.
But thank God I am not playing Vivek's role as after looking at him on screen I feel only he could do this. He has done a phenomenal job," Hrithik said.
Kangana too is happy to play a negative character.
"For the first time playing a negative role... I have an unconventional look. I am sexy but wicked. I enjoy being called sexy," she said.
The film is set to release on November 4.