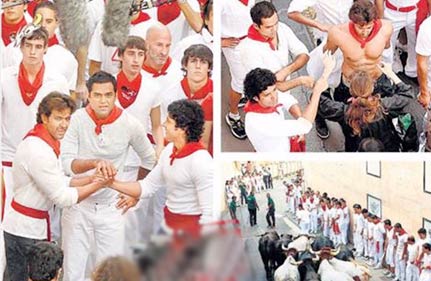 Bollywood stars Hrithik Roshan, Farhan Akhtar and Abhay Deol took part in the popular 'running of the bulls' ritual to shoot a scene for  Zoya Akhtar's film Zindagi Na Milegi Dobara, Mid Day reported.
The cast and crew of  Zindagi Na Milegi Dobara was in Spain shooting for the first schedule of the film.  
Since the film is shot in Spain, Zoya has planned to incorporate many local customs and traditions.  
Every year from July 7 to 14,  thousands pack into Pamplona to start Spain's most famous bull- running fiesta to honour Navarre capital's patron saint, San Fermin. Spain stages more than 3,000 fiestas (festivals) each year but the seven days of bull running are the favourite in terms of spectacle and excitement, though animal lovers  criticize such a wild sport involving loss of lives.
Dressed in the traditional costume of red and white, the three leads were made to run along with a group of locals while being chased by running bulls.  
A source says, "The bulls had their trainers with them, so they don't go rogue. The scene is one of the film's major highlights."
Apart from the running bulls, Zoya also shot another popular custom — a tomato-throwing match where opponents douse each other in tomato pulp.
Katrina Kaif
and the three male leads of the film shot for the scene.