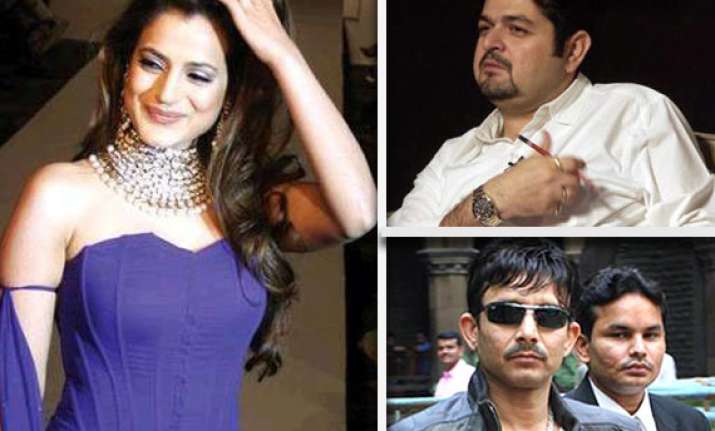 Mumbai, Feb 1: Here are some of the tweets online after SRK slapped Farah's husband Shirish Kunder, and patched up a day later: 

Joydas:

Shirish Kunder said something about Ra.One.In Response SRK MaRa.One

Laugh Riot:

SRK: How was the slap kunder: raw.one

Roflindian:

SRK,the alpha male in Bollywood punched Shirish,the Gama Pahalwan.In physics,you call it Alpha Beta Gamma.Delta blow

BEALOTUS:

#Shirish Kunder Farah Khan said TEES MAAR KHAN.SRK said JAANEMAN,MAIN HOON NA

Lord_Ram:

Shirish Kunder shall henceforth be mentioned in every conversation as,Isnt he the guy who SRK slapped All his life.Indeed

mauveblue2020:

after the weak RBDJ,insipid MNIK,utter-bore Ra.One,lacklusture Don 2... SRK delivers a HIT !!

islejazz:

SRK slapped Shirish Kunder because shirish was using ladkiyon wali fairness cream

YourFriendPinto:

Shirish Kunder - thappad se darr nahin lagta saheb,Ra.ONE se lagta hai.SRK - Ok,so here goes... *SLAP*

unfairandlovely:

I think it was just a case of misunderstanding.#ShirishKunder must have gone up to #SRK and said,Tees maar,Khan! #29SlapsPending

@MTVIndia :

Dear Shirish Kunder,Kha.One Regards,Shah Rukh Khan

@neelesh _the786:

Shirish Kunder say to Farah when he reached back home.. tumne hi 6 pack abs banwaye the naa,Pad gaya chain...

Here's how Bollywood guys reacted:

Dabboo Ratnani: I was present at Sanjs party & Without Any Bias I Fully Support Shah Rukh @iamsrk

Kamaal R Khan: SRK is having big heart and I am sure he will say sorry to Shirish Bhai and then they both will be friend again so ppl chill maaro pls

ameesha patel: Glad@iamsrk told shirish off n put him in place.srk has done so much 4 farah.they shud b grateful n not abusing srk

Farah Khan (the jewellery designer): Got calls in the middle of work asking me if @iamsrk slapped my hubby.Had to clarify I am the jewellery designer!