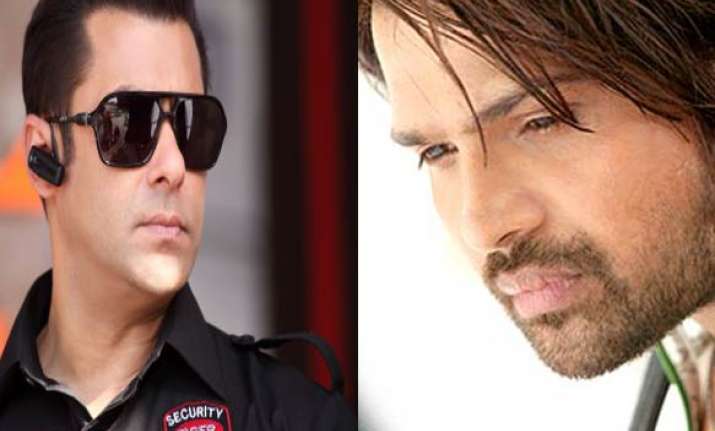 Bollywood star Salman Khan and music composer Himesh Reshmiyya have come together after staying apart for several years, says a media report.Himesh will be composing the music for Salman's film Bodyguard. 

Salman, who had once mentored Himesh, later felt that the musician was getting too large for his boots.Four years back on a reality TV show,where Khan was a special guest and Himesh a judge,sparks flew between them lending proof that the two had serious differences. However, Himesh seems to be back in Khan's favour.

Himesh Reshammiya has now taken over from Pritam as the composer for Khan's forthcoming film Bodyguard.Pritam, after having composed a good number of songs for the project, has now been asked to leave the rest to Himesh.So the music score of Bodyguard is now Reshammiya's.

The report quotes a source: "Himesh got his initial big breaks as a composer through Salman. He then branched out as a singer-composer and fell out with the actor. Seems like Himesh has latched on to Salman again.

"Efforts to win back the disgruntled superstar have been on for some time. On Friday,after the release of Ready,Himesh met Salman again.

"With overwhelming reports pouring in from all quarters about Ready, Salman was in a good mood. He told Himesh to take over the music of Bodyguard while Pritam who was originally doing the music was asked to compose the score for Salman's forthcoming YRF project Ek Tha Tiger. "

Himesh sure has a lot to be happy about. Having started his career as a successful composer in Salman starrers Pyar Kiya To Darna Kya, Bandhan, Hello Brother ,Dulhan Hum Le Jayenge and Kahin Pyar Na Ho Jaaye,Himesh has now returned to where he started from.Bodyguard producer Atul Agnihotri confirms,"Yes it's true.Pritam is doing Ek Tha Tiger with Bhai and Himesh will be doing Bodyguard."