Follow us on It's a good family entertainer minus any logics.
Ratings- ***
Stars- Shah Rukh Khan, Abhishek Bachchan, Deepika Padukone, Sonu Sood, Boman Irani, Vivaan Shah
Director- Farah Khan
Music Director- Vishal Shekhar
Happy New Year is an ultimate recipe, which needs to be gulped with immense pleasure. One thing, which is and quite obvious is that had it not been the king of entertainment Shah Rukh Khan, this three hours long movie would not have been that easy to standby.
But it's not that Shah Rukh Khan is all over whom Farah Khan entirely depends on. The director's offering carries that essence, which quite fulfils our requirement of getting entertained with other few reasons. Robbery has been an integral plot found recently in most of our Khans' movies. After Aamir Khan in Dhoom 3, Salman Khan in Kick, not to forget Hrithik Roshan in Bang Bang, it's now turn for Shah Rukh Khan to con in Happy New Year.
Uncomparatively, Happy New Year has different situation and different approach to make that robbery happen. Charlie (Shah Rukh Khan) has to take revenge from Charan Grover (Jackie Shroff), a diamond merchant who betrayed his father Manohar (Anupam Kher). Rs 300 cr diamond will be kept on display in WDC (World Dance Championship) in Dubai. Now from here you know the plan. Charlie will make a team and will lead it to the competition under whose disguise the big robbery will take place.
So we come across Nandu Bhide (Abhishek Bachchan) with his 'Nagin dance', Jagmohan Prakash (Sonu Sood) with his six pack abs, Temhton Irani (Boman Irani) a 'stud' who has fingers with miracle, Rohan Singh (Vivaan Shah) a perfect hacker and lastly to train them all in dance is Mohini Joshi (Deepika Padukone)-a bar dancer who wishes to open a dance academy for children.
So, will they be successful together? Farah Khan's 'Happy New Year' brings in a tale which is quite predictable, filled with non-judgmental activities but is entertaining than many other money-minting grossers seen in recent months.
Watching the three hours stretched drama, isn't a bad deal considering you have an appetite for non-sense drama. The movie has an apt plot, which doesn't lose its way. Farah sticks to the plan and doesn't go overboard. If it's a revenge saga she directs the way it requires to be. However, it lacks that intensity and provocation, which such flicks require and for which the movie had a lot of scope.
But we are recalled that it's a Farah Khan movie and it need not require to be serious. Comes, a bunch of talented actors, who don't give us a moment of grim. They shout on each other, do some leg pulling, do some broken or 'desi' dance (which also gives tribute to Sunny Deol's earth-digging steps) and mostly are allowed to act kiddish.
Served with some humor dialogues, which are mostly cynical, Happy New Year give moments of joy and are enough to keep us engaged. But if you see on the illogical side, there would be plenty. Of course the level of dance competition is not so degraded in which the judges (keep guessing who they are) are threatened to select the most inefficient team to WDC. Or how can have a wild card entry taking place just on the basis of showing 'bahaduri' on stage?
Such among many other scenes are taken too casually or rather say for granted that Farah leaves on us and says 'please manage' with it.
Also Shah Rukh Khan-Deepika's chemistry lacks that magic, which we have cherished in Om Shanti Om and Chennai Express. May be it's the big team of six, which doesn't allow these two alone to fetch our attention but on individual basis they are all good.

As said before Shah Rukh Khan's screen presence is a major relief for us. He is the one who could carry off any messy script, however, in this movie he gets a decent support and with it he is once again brilliant.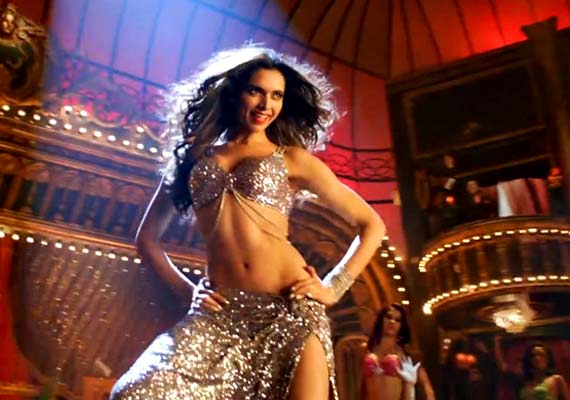 Deepika Padukone yet again proves that she could fit in any role given and is here to stay for long. Abhishek Bachchan in comedy roles is getting perfection. We have seen him in Bol Bachchan and in this too he gives a good performance. His Nagin steps would be remembered to many.
Boman Irani plays his part well. Sonu Sood with a combo of brilliant physic and acting, gives a great performance. Debutant Vivaan Shah doesn't let himself go overshadowed by the likes of big actors standing with him.
Music by Vishal-Shekhar is brilliant. Songs like Lovely, Indiawaale, Mawaa Laage have already created massive buzz on the music charts and in the movie those alongside others are a treat to watch.
I'll go with three stars for Happy New Year. With all its team efforts it's a good family entertainer minus any logics.