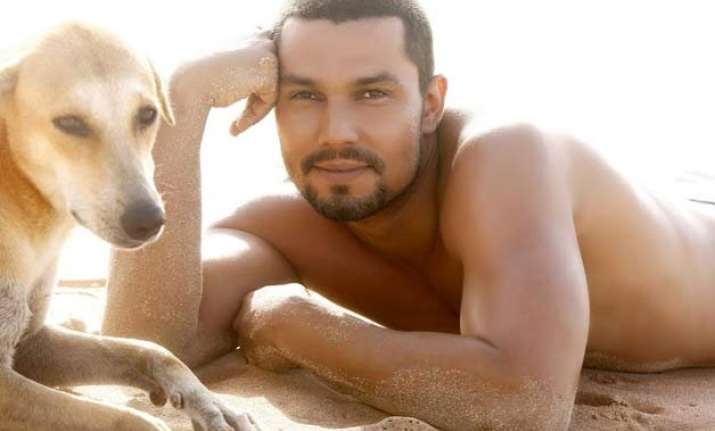 Mumbai: Actor Randeep Hooda has dapper looks, a classy attitude and heaps of talent. Born in a small village in Haryana, he started his modelling career after wrapping up his studies in Melboune, Australia. In Australia, he peeled onions in a Chinese restaurant, worked in a car-wash store, waited tables, and drove taxis for 2 years.
He debuted with the 2001 movie 'Monsoon Wedding', where he played an NRI. He mostly bagged the role because of his Australian accent. Post 'Monsoon Wedding', Randeep had to wait for four years for his next break.
The actor stayed in the limelight when he was in a relationship with actress Sushmita Sen. Though it's been long since they ended their three year relationship, Randeep found it difficult to prove that he was not the ex-boyfriend of a beautiful actress but also a brilliant actor.
The brawny actor, who feels that breaking up with Sushmita Sen was the best thing he did as it freed himself to do productive things, turns 39 today. On his birthday, we list five of his best performances that no one but he could have pulled off.
1) Deshu in D (2005)
It took Randeep four years to bag a role that brought him to people's notice. 'D', directed by Vishram Sawant, traced the story of Mumbai's underworld. As Deshu, an aspirant who wishes to become a powerful gangster, Randeep Hooda earned critical acclaim. Loosely based on the life of terrorist Dawood Ibrahim, 'D' gave Hooda a grand entry into the world of Hindi cinema. His portrayal of the rise of the gangster Deshu was so gripping that many said 'D' is all about Randeep Hooda. Without him, the movie would have lacked intensity and soul.
2) Agnel Wilson in Once Upon A time in Mumbai (2010)
Another movie based on the history of the underworld of Mumbai, director Milan Luthria's project traced the lives of dons Haji Mastan and Dawood Ibrahim. Randeep Hooda as police officer Agnel Wilson narrates the story. Randeep's character watches in close proximity how Mumbai gave birth to its destroyers and he did a superlative job. Though actors like Ajay Devgn and Emraan Hashmi were the lead actors of this movie, Randeep as a supporting actor left an indelible mark with his tough looks and impeccable dialogue delivery.
3) Lalit/Babloo in Saheb Biwi aur Gangster (2011)
Though this movie wasn't a commercial hit, it garnered applause from the critics. As Lalit, Randeep was a perfect blend of romance, action, and humour. The movie starred Mahi Gill and Jimmy Shergill too but Randeep outshone all. He earned his first IIFA nomination for best actor in a supporting role for this role.
4) Pratap Raghuvanshi in Jannat 2(2012):
Randeep Hooda as ACP Pratap Raghuvanshi brings the brooding intense factor to this movie. Starring Emraan Hashmi and Esha Gupta, this 2012 release was directed by Kunal Deshmukh. In his angry cop role, Randeep stunned audiences and critics with his silent pain and frantic outbursts. He successfully enabled this movie to be a hit and this was seen as probably his best performance.
5) Mahabir Bhati in Highway (2014)
Imitiaz Ali brought a very unconventional pair on screen with Alia Bhatt and Randeep Hooda. Randeep as the gruff, mystic criminal delivers a performance which was talked about when people walked out of the theatres. His emotions and his affection towards Alia's character, Veera, put him in a position where every established director wanted him in their next. Hooda also won the Stardust award for best actor for this movie.
On his birthday, we hope he reaches new heights of success. Happy birthday Randeep!